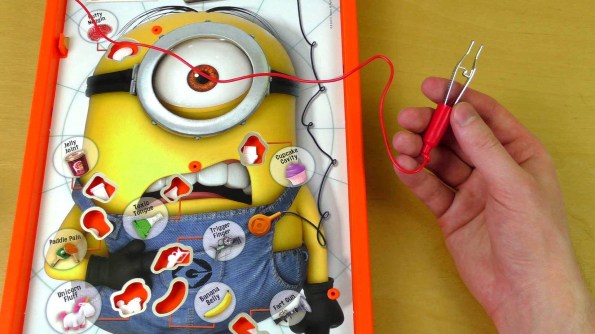 The other day, Avi told you about Despicable Me Monopoly being on sale. If your kid is a Minion fan, you might be stocking up on Despicable Me games for Christmas. Over the Thanksgiving weekend, my kids played Despicable Me Operation at their cousin's house and loved it. I know what is going on into the cart today at ebay. Ebay has a Toys R Us store, but many of the items will ship for free, which is much better than the $49 minimum at Toys R Us itself. This Despicable Me game is one of those items, regularly $24.99, now $17.47 and it comes with free shipping.
Basically, this is the classic game Operation, but instead you are doing surgery on a Minion - Stuart to be exact. Instead of removing bones and organs, you are removing things like unicorn fluff and bananas.  I am still thinking of the giggles my kids had when the buzzer would go off while playing this game over the holiday. Operation is definitely a game that takes a little skill and fine motor dexterity. While I am happy they had fun, I'm also happy they were practicing their fine motor skills without even knowing it! Those fine motor skills really help with their writing later on.
I took a look around for this game and while Toys R Us sells it themselves for the same price, you still have to spend another $32 to get free shipping. If you just want to pick off one present at a time as it goes on sale, this is the way to do it - with free shipping on each item.
It looks like Toys R Us is the only store that sells Despicable Me Operation, but other themed Operation games sell at Walmart and other stores for about $25.
(Expiry: Unknown)