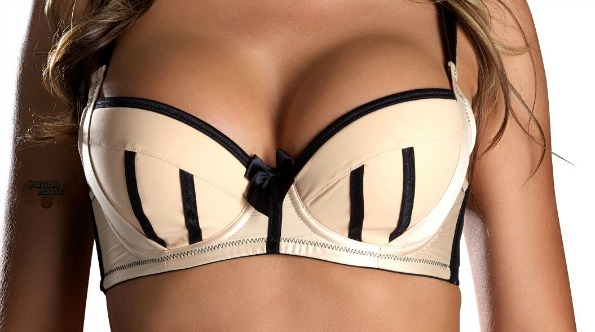 I am an international bargain hunter as you may know, and one of my favourite places to find a deal is eBay. I recently found a fantastic deal on the Affinitas Parfait Charlotte Bra that retails for $59 in most Canadian stores. You can buy it from a seller on eBay for only $21.99 US + $4.99 US shipping = $26.98 US. Right now that is about C $24.66 + C $5.60 = $30.26 CA.
Let us go over why this is such an awesome deal first, before I wax poetic over the bra. Butterfly Collection Canada sells this bra (different colour) for $59. Forever Yours Canada sells the bra for $69.99 (+ shipping). HerRoom, the big international bra place in the sky (as I like to call them), sells the bra for $44.79 (+ shipping and tax/duty).
As this deal from 2HotBrazil (homem) on eBay includes shopping and out does the competition by a mile, I have to say it is a fantastic deal. It is so good a deal; that I bought one in my size a few weeks ago and it just came in. It arrived duty-free to my home so I am more than pleased with my purchase. I would buy another if they still had my size in stock. I am saving about $30 or 50% by purchasing this bra on eBay.
This bra now ranks in my top two bras because the cup fit is just fantastic. The gore tacts beautifully and all my tissue is where it is supposed to be - supported and encapsulated. The push up effect of this bra is just so yummy! I also love the retro pattern to it. I do find the band is very firm if you wear the same band size as your under bust measures. Either take the time to break the bra in properly, buy a bra extender, or you might want to consider going up a band size. However, if you wear say a 32" band and you measure 30" or 31" then you should be good.
Plenty of sizes are still left in stock. Band sizes range from 28 to 40 (size 36 bands are out of stock currently). This bra is made for larger cup sizes, so it starts at a D and goes up to a JJ. It is a fantastic buy at this price and it appears to be well made. I expect this bra to hold up to the rigors of bust bouncing for a long time.
(Expiry: Unknown)