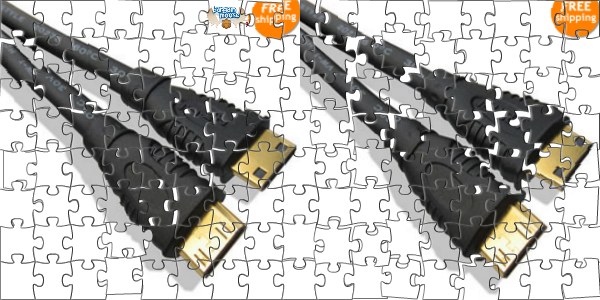 Get a 6 ft HDMI cable with 24K gold-plated connectors that is compatible with HDTV, Blu-Ray Player, PS3, XBOX 360, Plasma , LCD for the tiny price of $5.49 with free shipping. This is approximately 83% off average retail price.
Really for this price you can't go wrong. They have already sold over 3,000 of these units. They ship from within Canada so no worries about duty if you buy multiples.
More info:
48-Bit for unprecedented rendering of Billions of Colours
Dolby TrueHD and DTS-HD
4 screened twisted pairs of OFC (oxygen-free copper) stranded conductors with foam PE (polyethylene) insulation layer which improves the high frequency response for wide-bandwidth and efficient signal transfer.
Copper braid shielding that is triple-shielded to provide complete immunity to environmental Electromagnetic interference and Radio Frequency Interference.
Fully compatible with HDMI Versions 1.4, 1.3 and all HDMI cables and devices.
I don't understand 1/2 of that.. but I do know you want your connectors gold-plated and that most HDMI cables in stores start at around $30... so this is fab. They have a little over 800 units left.