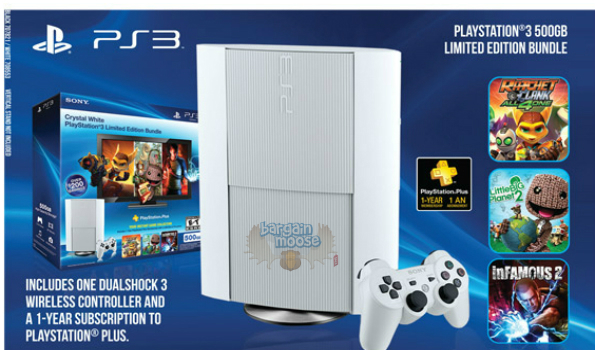 There are a lot of cool PS3 bundles out there, but none are as good and as cheap as the one EB Games is offering! Get a PS3, four games, a year of Playstation Plus and a controller for $250!
There really are a ton of PS3 bundles. You can get a PS3 bundled with Uncharted 3, or with Move, or with some other game or perk. The console is usually a standard black PS3 slim with a 320GB hard drive or smaller, and usually runs $300 or more.
The deal EB has on is a Crystal White PS3 Slim with four games, a controller and a year of Playstation Plus. The four games are: Ratchet and Clank: All 4 One, Little Big Planet 2 and Infamous 2. Those are all great games (especially Infamous 2) but wait-a-minute! That's only three games, Shawn! What about the fourth! The fourth game is Playstation All-Stars Battle Royale! All you have to do is add it to your cart with the bundle, and the discount will be added at checkout.
You get all this for only $250! That's $50 off the normal cost of the bundle without All-Stars. Adding in All-Stars for FREE gets you another $40 in value, making the grand total that you save $90. That's not to mention the value of Playstation Plus for a year and the other three games.
Shipping is FREE!
(Expiry: Unknown)