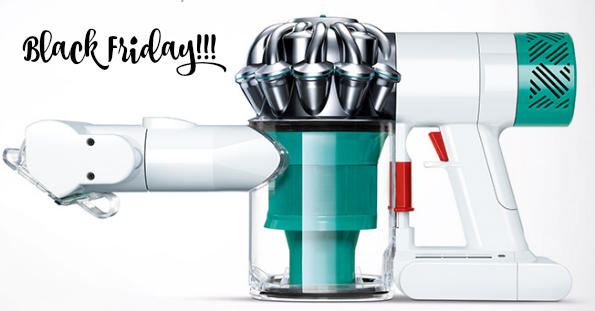 I own a Dyson and think they are a very fine brand of vacuum cleaner. If you are also a fan of Dyson, then check out Dyson's sweet Black Friday deal on the Dyson V6 Mattress. This powerful handheld vacuum cleaner can be used to pull allergens out of mattresses and as a regular hand-held vacuum cleaner. Originally $299.99, it is now on sale for $224.99. Once you add the vacuum cleaner to your cart, you will also receive a free Cordless tool Kit valued at $101.96 and free shipping.
This is a pretty nice deal: $101 worth of freebies, free shipping, and $75 off the original unit. Now, you may be wondering why it is called the 'V6 Mattress' and that is because this little handheld vacuum specializes in mattresses. The powerful suction of this vacuum not only removes allergens from your mattress, but it cleans the air as it does so via a whole machine HEPA filtration system.
This light-weight and ergonomic handheld vacuum cleaner is perfect for small jobs around the house. It offers two stages of suction. First, you can get 20 minutes of regular - yet powerful - suction off the rechargeable battery. Second, for really tough jobs, there is a max power mode that gives you massive suction power for about six minutes. If this is your first time vacuuming the top of the book shelves, the mattress, behind your headboard, and more... then you may really need that max power mode.
Like all Dyson vacuum cleaners, this one is also bag-less. The one-touch bin is easy to empty: simply push the button to release the dirt.
This vacuum comes with a two-year warranty from Dyson. In the box, you will receive the V6 Mattress, a combination accessory tool, and a crevice tool. You will also receive that cordless accessory tool kit that includes a Soft dusting brush, Stiff bristle brush, Wide nozzle tool, and Extendable hose. I really like the Dyson tool kits - I own one - because they make the Dyson more versatile. I purchased my Dyson tool kit used, and it was still worth the $40 I paid for mine (used). Getting one for free is really sweet as I promise you - you will use these tools when cleaning.
(Expiry: 30th November 2015)