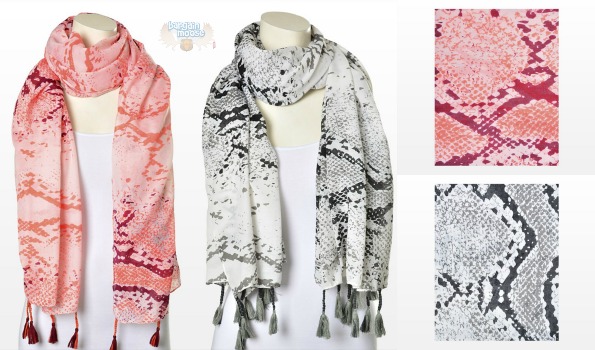 Looking for a great new scarf and have little money to spend? Pick up the Snake Scarf with tassels at Dynamite Canada for just $3.50, originally $22.90. You are saving 85% on this lovely scarf.
The scarf is actually on sale for $5 right now. However, all sale accessories are currently an extra 30% off. Therefore, once you add the scarf to your cart it comes down to just $3.50. The scarf comes in two colour choices: white/grey or coral/maroon. While there appears to be plenty of the white/grey colour in stock, the other colour option is very limited: only six are left in stock.
The website really tells us very little about this scarf. it is listed under the lightweight scarf category and it comes adorned with fun tassels. It appears to be a good-sized scarf because the mannequins have the scarf wrapped around their neck and it still hangs down pretty far. I would buy one of these in each colour. Even if I were not into snake print myself, I would keep them to give away as gifts.
As I mentioned, all sale accessories are an extra 30% off right now. I suggest checking out some of the other accessories on sale if you plan to buy yourself a new scarf. This Faux Leather Cuff Braceletwas $19.90 and is on sale for $5. Add it to your cart and it comes down to just $3.50. There are plenty left in stock. While there is only one left of this Cluster & Horn Necklace, I just had to mention it because it is super adorable. It also comes down to $3.50 from $19.90 once you add it to your cart.
If you want some other scarves, several others have been discounted to $8 and will come down to $5.60 after you add them to your cart. Check out these accessories:
None of these deals are quite as good a deal as the featured scarf, but anytime you can find accessories for around 75% off or more, well, you are doing pretty well.
Dynamite offers free shipping on orders of $50 or more. Under the free shipping minimum, shipping costs $9. I suggest teaming up with some girlfriends and binging on some cheap accessories for up to 85% off. It is hard to get a better deal than that.
(Expiry: unknown)