Here's a great deal for the movie lovers on Bargainmoose! DVD Link is a small Canadian online DVD rental company. In order to attract some new customers, they are offering a free 2 week DVD rental trial. During the trial, you get to have 2 movies at a time in your home.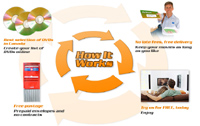 You need to enter your credit card details in order to be eligible for the trial. But if you cancel within the 2 week time frame, you won't be charged a cent. They only charge your credit card if you decide to continue the service after the 2 week free trial. If you do decide to keep renting DVDs, the monthly fees start at $9.95 for a basic package, but go right up to $54.95 for the platinum deal!
If you've never had an online DVD rental account before, I recommend you give it a try! You stick a load of movies and TV shows in your rental list, and the DVD rental company ships them out to your door. There are no shipping charges, and never any late fees for returning the DVDs. I find it a very easy process and I love getting new and interesting movies through my front door.
Depending on which company you are renting DVDs with, turnaround times may vary, between you posting a DVD back to them, and receiving the next one. What is the service like with DVDLink.ca? Have you used them? Please let me know in the comments below.
P.S. There are quite a few online DVD rental trials which you can sign up for, click the "DVD rental deals" tag below to see more great freebies, such as a free month of Zip.ca!