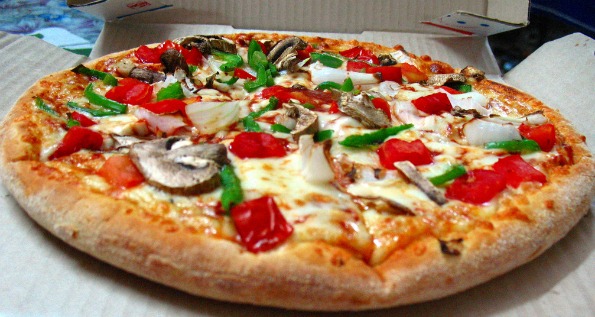 BUMP - code is has-activated now! It's not often that we will write about online food deals, but this time is a little different. Domino's Pizza has a fantastic new coupon code out that will save you a bundle of money on your take out or delivery orders.  Save 50% on all pizzas no matter the size until July 20th the 7th December when you order online.
Click here to order @ Dominos.ca now
Coupon Code: CAG5014
Discount: 50% off
Expiry:20th July 2014 7th December 2014
One of the reasons why we don't normally write about these online food deals is because normally, they are very specific.  For example, you can get this pizza for this amount but you have to get this size and order between this time on a Monday night.  There are normally so many exclusions and requirements that even if it is a good deal, it would really only appeal to a few readers.
This time around, it is 50% off every single pizza, every single size, any time from open until close on any day of the week until July 20th.  You can get as many toppings as you would like, orders as many as you would like and get any pizza including the make your own ones all for the 50% off.  It really doesn't get any better than that!
A coupon like this can be used a couple of different ways.  For myself, it is the perfect opportunity to be a hero to my family and order pizza for dinner one night.  I can order extra (or everyone's favourites) because it won't cost me what it normally would without the coupon.  The second way you could go about this is be a hero in the workplace or for a sports team or gathering.  You will be able to pay half the price it would normally cost you to buy a bunch of pizzas for a big group.  You can get a variety of different pizzas such as plain cheese, specialties and even one with a ton of toppings for someone that loves it loaded up and they will all be 50% off.   It is a win win situation whether you go big and buy 10 pizzas or just get one or two for your family!
You will find this Domino's coupon, along with a few other posted up on the Bargainmoose coupon forum.  You best bet is to look through and see which coupon will get you the best discount. Chances are, it will be the one I just mentioned.
What toppings do you like on your pizza Moosers?
(Image credit to Nadir Hashml)