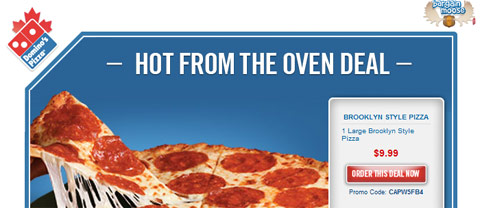 Pizza Pizza Pizza! If you fancy a Brooklyn style pizza from Dominos Pizza Canada, you can get a large one for only $9.99 when you use the promo code below.
Click here to order online @ Dominos Pizza Canada
PromoCode: CAPW5FB4
Discount: Large Brooklyn pizza for $9.99
What is a Brooklyn pizza, I hear you ask? Well, they say it is specifically engineered to be big, thin, and perfectly foldable. As far as I can tell, you can add your own toppings to the basic pizza.
Terms:
Not valid with any other offer. Deep Dish may be extra. Tax may apply. Minimum purchase required. Delivery charge will apply. Limited delivery areas designed with safety in mind.