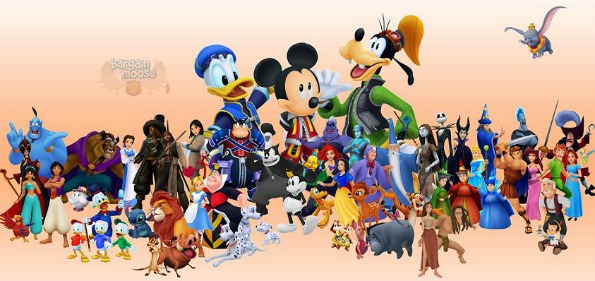 The Disney movie Club has come to Canada, and with it, you can actually save a lot of money on Disney movie titles. I am here to tell you how to navigate the Disney Movie Club to maximize your savings and not spend unnecessary money.
The introductory offer at the Disney movie club gets you four movies for $1 plus free shipping. By signing up for the Disney movie club, you agree to:
buy 5 movies at regular Club prices in the next 24 months. Regular Club prices start at just $19.95 per DVD and $29.95 per Blu-ray for members who joined under a DVD enrollment offer. Shipping and processing is $4.95 for the first title in each shipment, $6.95 for a box set, and $2.95 for each additional title on the same order (plus GST/HST).
Got that? Now, there is an option when you buy your four movies for $1, to request a fifth movie for $14.95, which is half price if you are going to pay for blu ray movies. This fifth movie counts towards the five movies you need to buy at 'regular price', knocking the number of movies you will have to purchase down to just four.
There is also an option to get a sixth movie for $9.95 (which is totally worth it for Disney) when you place your initial order. However, this sixth movie does not count towards your required movie purchase. Even if you buy this sixth movie, you will still need to purchase another four at regular price. Whether you buy four, five, or six movies in the initial offer - shipping is free.
To summarize, the beginning offer looks like this:
Get 4 movies for $1 + free shipping & buy 5 movies at full price
Get 5 movies for $15.95 + free shipping & buy 4 movies at full price
Get 6 movies for $25.90 + free shipping & buy 4 movies at regular price
Your best deals are #2 and #3.
Now, for the trickier part. They will email and mail you out their 'feature title' card every four weeks. You must reply within 10 days to switch out the title for something you want or they will automatically send you the feature title (and bill you). To get the best deal: select the remainder four movies you want from the Disney collection the first month of your subscription and then cancel your membership.
The hubby and I have signed up for the Disney Movie Club. We chose option #3 and received our six Blu Ray movies for just $25.90 and the second we get our first 'featured title' offer we are ordering the remaining four. That will cost us $29.95 each plus $4.95 shipping for the first DVD and $2.95 shipping for each extra DVD. In total, we will have paid $159.50 for 10 Disney Blu-Ray DVDs, which works out to approximately $16 per Blu Ray movie. With titles like My Neighbor Totoro, Frozen, The Incredibles, and more in our collection... you just cannot get these cheaper anywhere else. You also get a whole load of Disney Movie Reward points inside each movie - bonus!
(Expiry: Unknown)