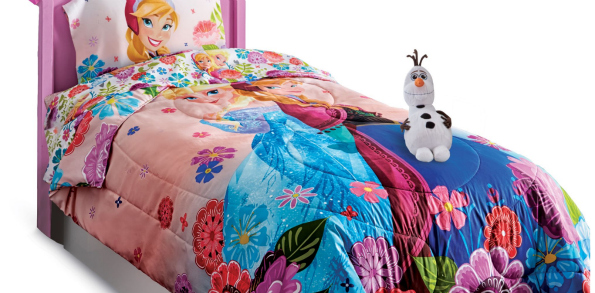 Like the Minions set yesterday, this Disney Frozen 'Floral Breeze' Twin Sheet Set is on sale at Sears Canada. This twin size sheet set is on sale from $29.99 down to $26.99. Use coupon code941612464 for an extra $10 off, thus bringing this Disney Frozen twin sheet set down to $16.99. See below for a good deal on the matching comforter as well.
The same sheet set is $29.94 @ Walmart so you know you are getting a great deal if it is less than Wally-World. The twin sheet set comes with a flat sheet, a fitted sheet, and one pillowcase. The sheets have both Elsa and Anna on them, but it looks like the pillow case only has Anna. Maybe Elsa will be on the back?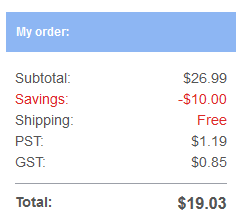 You can see the discount is taken off and I get free shipping because I have chosen to have the sheet set delivered to my local store. If course there will be taxes, but those depend on the province you live in.
Now, if you want the matching comforter, you can score that on sale as well. Originally $49.99, the Disney Frozen 'Floral Breeze' Reversible Twin/Double Comforter is on sale from $49.99 down to $44.99. Place a separate order using the above coupon code, and your comforter will come down to just $34.99! The comforter is reversible so you get two different looks for one price. The same comforter is $49.94 @ Walmart Canada where they are out of stock!
These sheets are well loved by little Disney princesses everywhere. As one reviewer at Walmart said:
I got this for my granddaughter and she was so excited and happy to have these on her bed,she couldn't wait to hop in bed. The feel of the sheet is very soft. And they wash up like new.

You will probably want to purchase the sheet set AND the matching comforter to stick under the tree for Christmas. If you want both, then make sure to place separate orders so you can use the $10 off $25 coupon code twice. If you do this, then the combination will cost: Twin Sheet Set + Comforter = $16.99 + $34.99 = $51.98 for the set
You simply cannot get the sheets or the comforter for less anywhere else right now. Disney Frozen is still such a popular theme so this bedding set would probably be a welcome gift this Christmas
(Expiry: 28th October 2015)