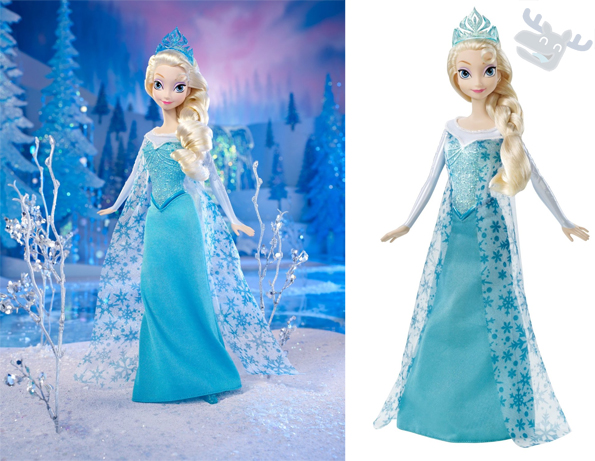 I was browsing the toys on Amazon for potential Christmas gifts, and I had a look at the "movers and shakers" section. This section sometimes shows me items that have had a big price drop and therefore are very popular items in terms of sales. One of the items in this section was the Disney Frozen Sparkle Elsa Doll – it's increased in rank by 2,446%! The reason why, is because it was originally priced at $20.99 but right now, it's only $11.47!!
Please note that this item is directly from Amazon.ca themselves and therefore if you have Amazon Prime, you will get Elsa shipped to your home for free. If you don't have Prime, then you would need to spend $25 on Amazon.ca for free shipping to your home. I am sure most of us are well aware of this fact – you should take out an Amazon Prime trial now to get all your Christmas bargains!
Let's check out what price this Elsa doll is online, elsewhere in Canada. It is the same price at Toys R Us, but there is no stock available – so this doesn't really count! Walmart sells Elsa for $22+, Chapters is selling her for $26+, Sears is $35+! If you wanted to check this page on London Drugs, there is the potential to get Elsa as well as Kristoff for only $16.99, but it's in-store only and stock looks to be very limited. All in all, the Amazon deal is fab, for the little Frozen lovers.
I know Frozen is getting a little but dated, but there are still some young children out there who are only just now discovering its magic and would love a little doll like this. Please note that I am saying "kids" that love Frozen, not "girls." My eight year old nephew loves it too. :)
(Expires: Unknown)