In what has become a huge tradition in Canada that continues to grow, we're always on the lookout for the best possible Christmas Sweater for you to wear. These Digital Christmas Sweaters that work in conjunction with your cell phone to provide animation via a free app are the best ones we've spotted yet!
The sweaters will ship from the UK and are charged in CAD currency. They retail for $71.99 however I signed up for their email here (scroll to the bottom of the page, there's a box to type in your email address to get on the list) and immediately received a coupon code for 10% off, leaving my new Christmas sweater at $64.79.
Click on the above link to view how it works! It's so cool, the images shown below are not adequate to see it in motion.
A video animation is displayed on the sweaters, thanks to use of your own smart phone inserted into a special pocket on the sweater. With a free app that's available for both iPhones and Android phones, you can select the appropriate video within the app for your sweater and it will play the video in a loop.
You can purchase a sweater with Santa stuck in the chimney, and the animation from your phone cleverly hidden shows his legs kicking to get out.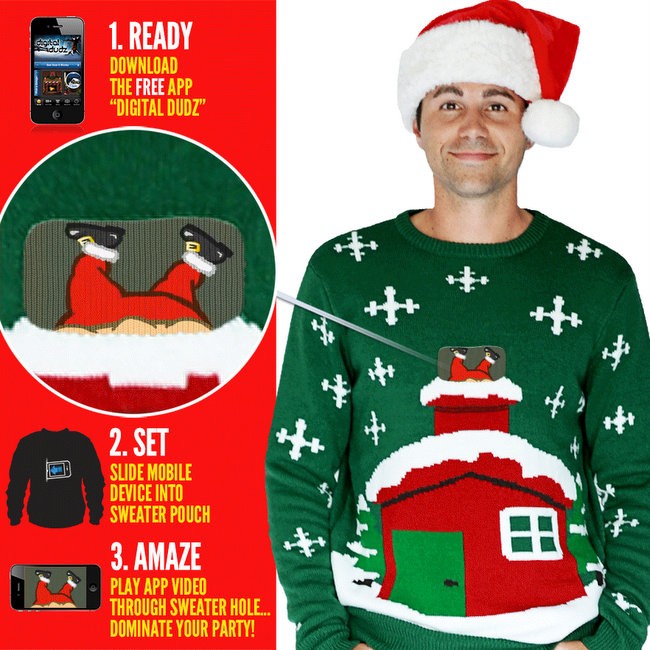 The one we think is the cutest (albeit a bit freaky looking we admit) is the Gingerbread man. The video on this sweater shows the little guy getting eaten more quickly than you can say, "Not the gumdrop buttons!" There are more sweaters to select from, make sure you click on the top link to view them all.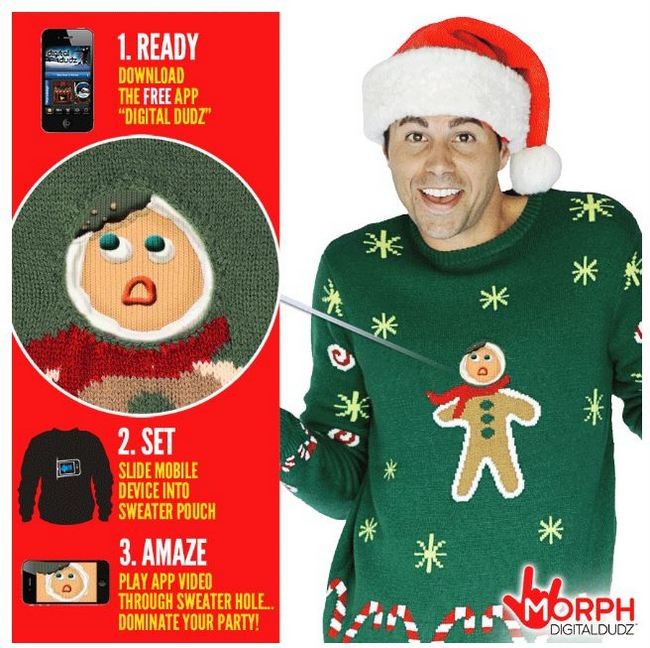 Shipping details: All deliveries are sent from the UK. For orders over CAD $20, duties of up to 18% and import taxes plus a $15 admin fee may be payable and are the responsibility of the customer. In reality we find that Canadian Customs charge duty on less than 5% of orders. Standard delivery: $9.95 Order before 11am (Eastern Time) Monday to Friday and your order will be shipped on the same day and delivered in 3–5 working days. Delivery & Tracking is provided by Interpost.

Shipping may even be free, mine is showing up as free shipping!