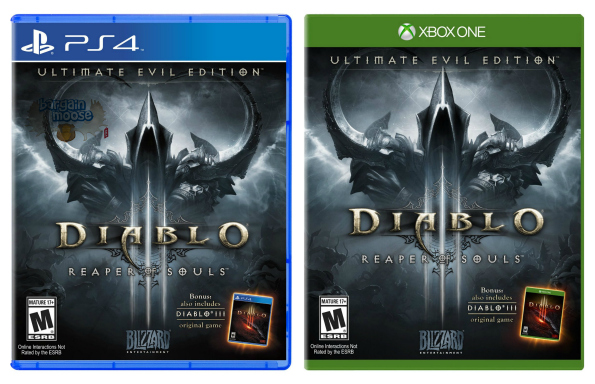 Gamers! Amazon Canada has dropped the price substantially on Diablo 3 Ultimate Edition for the PS4 and the Xbox One. The price for the game on these new consoles is cheaper than it is for the PS3 and the Xbox 360. Originally $69.99, Diablo 3 Ultimate Evil Edition is now on sale for $39 $32.49 with free shipping.
You can select either console edition through the link above. I price compared this PS4 and Xbox edition with other retails to find it substantially more expensive elsewhere:
$64.99 @ Future Shop Canada
$64.99 @ Best Buy Canada
$69.99 @ EB Games (new)
$59.99 @ EB Games (recycled)
You would also have to pay shipping at EB games if you bought from there. I checked Walmart Canada as well, but they only have the game for older consoles. Amazon Canada's price is the best you can get right now - and it is hot!
There are two different versions - one is English only and the other is French only. May sure you buy the right version or you might end up with a game in a language you do not speak. Evidently the French version for the PS4 does have an English language software package that can be installed so the game plays in English. i do not know if the English version has a language pack you could install for French. This is rather silly in my mind - if movies can be bilingual, why can't a game?
Over, this game is a killer purchase at this price. It also has garnered high reviews from gamers. One reviewer on the Xbox One edition said:
Addicting as hell, I spent the last 12 hours playing non-stop, forgot to eat, drink and call my girlfriend to tell her I loved her, I'm now single. You want a game that will make you forget you have a life? Buy this.
I feel sorry for his girlfriend.
What blows my mind is that such a popular title is currently on sale for 40% off its original price - for the two newest consoles. How on earth did that ever happen? Even the recycled version at EB games is not that cheap.
You will receive free shipping on this game as it costs over $25. This is a win-win situation my lovely Moosers! Pick up this game before it sells out.
(Expiry: unknown)