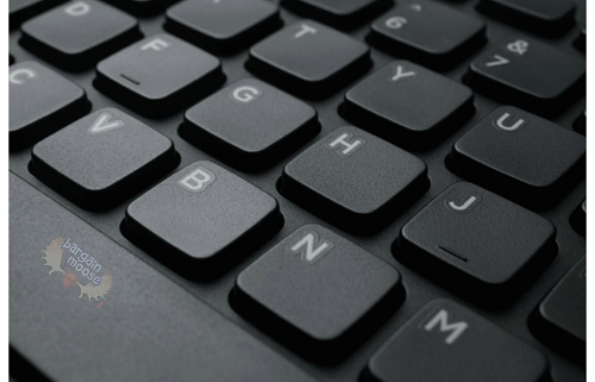 Dell Canada has discounted their Dell KM632 Wireless Keyboard and Mouse Combo from $59.99 down to $19.99. This is the first time this keyboard and mouse combo has been discounted since its price increase (from $49.99 to $59.99) late last year due to our diving Canadian currency. Receive free shipping on all orders.
I could not price compare this exact unit in Canada as it is not sold at many other mainstream retailers. I did find it from a secondary seller at Amazon.ca, but the price was silly - $71.28. In the USA, Dell.com sells the same combo for $49.99 USD and Amazon.com sells the keyboard and mouse combo for $34.92 USD. Most keyboard and mouse combos retail for $30+ for even the most basic units. As an example, the cheapest HP wireless combo is $34.99.
This keyboard has a very clean profile with lovely raised keys and an ambidextrous mouse. You have no idea how hard it is to find a mouse in a set that can be used for either the left or the right hand. It is somewhat odd, but I seem to be surrounded by left-handed people (I am left-handed as well). This is a very useful feature.
The mouse appears to be full size and both units are wireless. They can connect to your desktop or you can use them as external peripherals for a laptop. While I don't mind typing on my laptop's keyboard, a friend of mine prefers a full size keyboard when he is at home. Thus, he uses an external keyboard with his laptop. I always use an external mouse with my laptop.
I was recently shopping for a wireless keyboard and mouse combo for a friend. He wanted a combo - instead of buying separately - so that the keyboard and mouse would be on the same USB receiver. When USB slots are limited on a computer, an external keyboard and mouse can take up two of your three available slots. You can get USB hubs that you plug into your computer, but the draw on your laptop's power is increased with the number of items you have plugged in. I like to use no more ports than are actually on my computer.
Enjoy this $20 wireless mouse and keyboard set with free shipping.
(Expiry: 14th July 2015 @ 6AM)