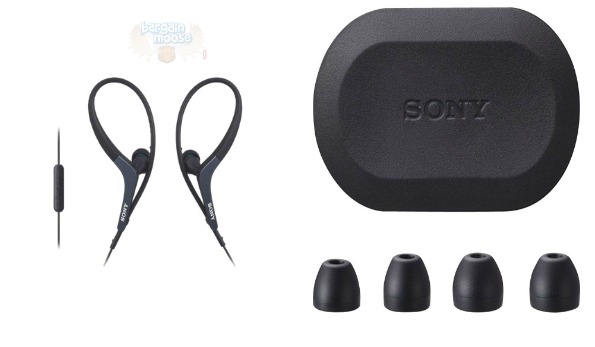 Dell Canada is selling the Sony Active Sport Headphones in black for $29.99, which is half off the original price of $59.99.
I did some price checking at both Sony Canada itself and at other retailers. I found the same headphones for $54.99 at Sony Canada, $34.99 on sale at Best Buy Canada, $39.99 at Canada Computers, and $59.99 at NCIX Canada. Bestbuy.ca was the closest competitor but Dell.ca still had the better price.
The ear loop is adjustable for a perfect fit. Just hoop it around your ear and pull firmly into place. Once adjusted, the earbuds will stay in place with no more fiddling required. The headphones also come with four sizes of hybrid silicone earbuds so you can find the most comfortable fit for your shape and depth of ears. You might also prefer different earbud ends for different activities. While the headphones are water resistant, preventing water and sweat from leaking into the ear canal while working out, they should not be kept in continuous contact with water. These are not designed for swimming or for any sort of water sports.
These headphones feature an in-line remote with volume and track controls play, stop, next, and previous, which is compatible with Apple products. They also come with a built in microphone to make it simple to take calls while out on a run. The headphones come with a few accessories as well: a clip, a cord adjuster, and a mesh-carrying pouch to keep your headset from being tangled or snagged on things in your bag.
These headphones are lightweight, comfortable, water resistant, and designed for an active lifestyle. Whether running, cycling, or hiking; these headphones would make a good companion for your iPod, phone, or other MP3 player. Listen to your favourite music, podcasts, or ebooks as you enjoy yourself in the great outdoors or work out in your local gym. I always listen to music when I work out; it provides motivation when I usually have none. It also makes me work harder if I am listening to a strong beat like rock or metal. However, sweat tends to be an issue with earbuds and my headphones are too heavy. These would be a better option for the next time I take up going to the gym.
Dell Canada offers free shipping on all orders so these will ship for free.
(Expiry: 10th July 2014)