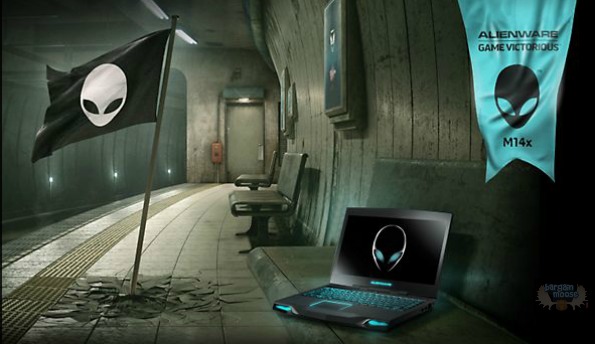 I once told my husband the only way I would go back to PC from Apple was if I got an Alienware computer. Just this weekend we ordered an Alienware computer because Dell was offering some really fabulous deals like this one: Get a loaded New Alienware M14x for only $1,499.99 (Was $1,924.99). You save $425.
Alienware computers are meant for PC gamers. They are gaming computers, built for good graphics and fast speed. The deal above has the following specs:
Processor: 3rd Generation Intel® Core™ i7-3610QM processor (6MB Cache, up to 3.3GHz w/ Turbo Boost 2.0)
Operating System: Windows® 7 Home Premium, 64bit
Memory: 12GB3 DDR3 SDRAM at 1600MHz
Hard Drive: 1TB 5,400 RPM SATA 3Gb/s
Optical Drive: Slot-Loading Dual Layer Blu-ray Reader (BR-ROM, DVD+-RW, CD-RW)
Video Card: 2 GB GDDR5 NVIDIA® GeForce® GT 650M with Optimus™
This is not the one we ended up picking up. I went with one that had a smaller HD (750), the optical drive in mine isn't blu-ray, and the screen is HD but not HD+. The one above is HD+. I also got mine with a student offer (Free XBOX) but not everyone has this option. For a mere $100 more than I paid for mine you can get the totally tricked out beast above.
When you purchase a PC currently, you will get Windows 8 for $14.99 when it comes out.
While Alienware is not the cheapest for what you get, it is comparable especially with a deal like this. Alienware computers are also loved because they look wicked.
Expiry: 28th, September 2012