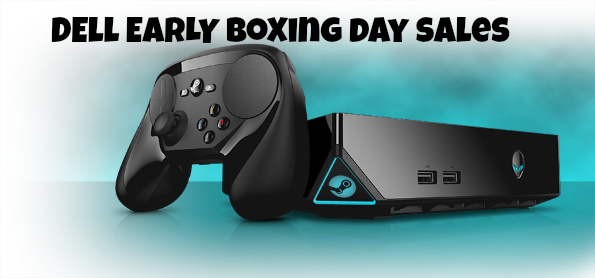 Dell Canada's Boxing Day sale started today and deals run through the 27th of December 2015. There will be special door buster deals released on December 26th @ 6AM EST and 12 PM EST. You will get to save on televisions, headsets, laptops, desktops, and more with free shipping on your entire order. Are you spending over $99? Get 5% back on a Dell Advantage Card - see the website for details.
The early-bird electronics are already sold out - so you will have to wait until boxing day for the extra releases: twice that day. However, there are some great computer deals that you will not want to miss out on.
Laptops
You can pick up an affordable laptop during the Dell Boxing Day Sale. ThisInspiron 15 3000 Series Non-Touch was $538.99, and is now only $399.99. It comes with a 500GB hard drive, 4 GB RAM, Windows 10, and a dual-core processor.
Gaming
The best gaming deal has to be on this New Alienware 13laptop that comes fully loaded! Enjoy the 6th Generation Intel i7 Processor, 12GB of memory, 1 TB hard drive, and the gorgeous NVIDIA GeForce GTX 960M with 2GB GDDR5 graphics card. Originally $1749.99, this gaming laptop is now on sale for $1,549.99.
The Alienware Steam Machine is a computer of a different sort. It has one side devoted to Steam - like a console - and the other side works like a regular computer with Windows. Originally $699.99, get this machine for $649.99.
Desktops
For a great mid-range desktop, pick up theInspiron Desktop with i3 processor, 1TB hard drive, and 12GB of memory. Originally $688.99, pay just $549.99.
Personally, I am drooling over the fully loaded computers. This is where you really want a good deal. TheNew XPS 8900 Special Edition is a pretty incredible unit. Get $450 off the original price of $2149.99, so now the XPS 8900 costs $1699.99. You get:
6th Generation Intel Core i7 Processor
Windows 10 Home
32GB Memory
2TB Hard Drive + 256GB Solid State Drive
This is one huge computer for a fantastic price. I am not sure what you would do with over 2TB of space, but I am sure you would put it to good use.
As I mentioned before, keep your eyes open for the door buster deals being released at two different times right on Boxing Day - December 26th - itself.
(Expiry: 28th December 2015)