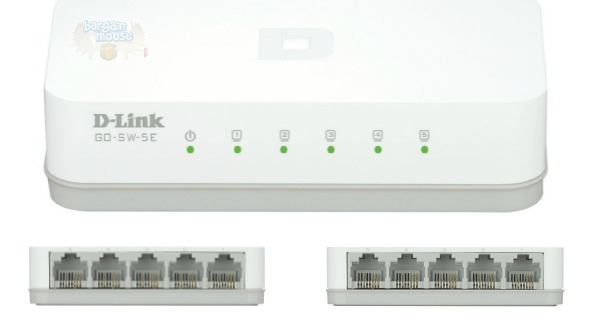 Dell has started another four days of deals. I picked out this inexpensive D-Link (GO-SW-5E) 5 Port Unmanaged Desktop Switch that is on sale from $14.99 down to $9.99 with free shipping.
I price compared this deal with many other retailers. Dell Canada now only has the cheapest price but that free shipping with no minimum offer from Dell makes this deal far superior than anywhere else. The D-Link 5-Port Fast Ethernet Easy Desktop Switch retails for:
$12.99 @ Amazon Canada
$14.99 @ Tiger Direct Canada
$12.99 @ Future Shop Canada
$12.99 @ The Source Canada
$12.99  @ Best Buy Canada
$24.99 @ CDW Canada
All of the above prices require an extra shipping fee that starts at $5 and goes up from there. Thus, Dell easily beats them all.
The Dlink switch provides reliable high speed wired networking between computers. Plug up to five computers into the switch. The unmanaged 10/100 Mbps switch gives you a choice between 10 MBPS and 100 MBPS depending on the workload of the computer in question. This D link switch is a plug and play model - guaranteeing an easy set up with little effort. Connect multiple computers to the GO-SW-5E switch for easy file and folder sharing. You can also connect the device to a router for sharing an internet connection. One reviewer did just that:
I needed a few more ports than my router offered, so this device was perfect. Just plug it into your router and you get a few more ports for your devices. No setup required, plug and play.
For $10, this is a simple expansion instead of buying a larger router.
This switch is also part of D-Link's Green Technology. Green technology saves energy, reduces device heat, and gives your switch a longer life span without reducing efficiency. Another reviewer was quite happy with how simple the device is to set up:
This unit is small, takes up almost no space and works like a dream. Just plug and play. If only all my other devices were this seamless....
This little device is great for home businesses, small offices, and to expand your personal router if you wire in to your router for the best internet speed.
Sign up for the Dell Advantage to receive 5% back on a Dell gift card as well. That might not seem like much from this little switch, but 5% adds up over time.
(Expiry: 26th March 2015)