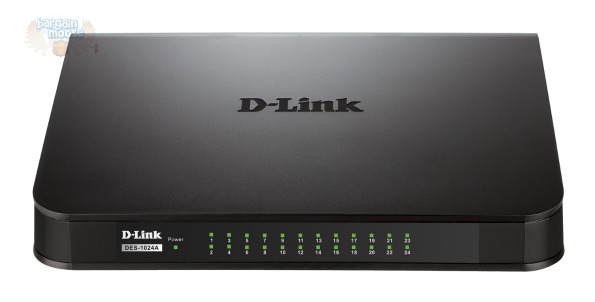 In today's 12 Days of Deals at Dell Canada, the D-Link DES 1024A 24-Port Fast Ethernet Switch is on sale from $69.99 down to $29.99 with free shipping. Sign up for the Dell Advantage to receive 5% back on a Dell gift card as well.
While I am familiar with a lot of tech, this is a new one for me. I have just never seen that many ports on an Ethernet switch before! Talk about all the networking opportunities. This is perfect for a small to medium size business or a gaming room.
I price compared with many other retailers and found Dell's price the best. Here is what other retailers are selling the D-Link DES-1024A Ethernet switch for:
$48.99 @ NCIX.com
$49.98 @ Best Buy Canada
$49.98 @ Future Shop Canada
$49.98 @ Amazon Canada
$49.99 @ Staples Canada
$49.99 @ Walmart Canada
The above price comparisons do not include shipping charges for companies like NCIX.com or Staples. However, the going rate for this Ethernet switch is $50 right now.
Now, why would you want one of these devices if you have wireless? Wireless is convenient but you will always achieve faster file transfers and download speeds when you are hardwired into a device. When I am downloading a game on Steam, I always hard wire my computer in to the internet because I do not want to wait for hours or risk a momentary glitch interrupting my download.
I found a review for this device on NCIX. The reviewer said:
This switch works great. I've been using this on in my house to dispatch internet around the entire house (2 floors) and it works perfectly. Never rebooted since I got it and it was a pretty easy setup (out of the box, plug it and connect to my router and job done).
The reviewer most liked the fast and easy setup. However, he was disappointing that the Ethernet switch did not feature a gigabyte port.
Given the price point of this unit compared with the competitors, I think this is a great deal for anyone in need of one of these units. As Dell Canada offers free shipping on all orders, there are no extra fees beyond taxes.
This is a one-day deal and will end tomorrow morning!
(Expiry: 11th March 2015 @ 6AM)