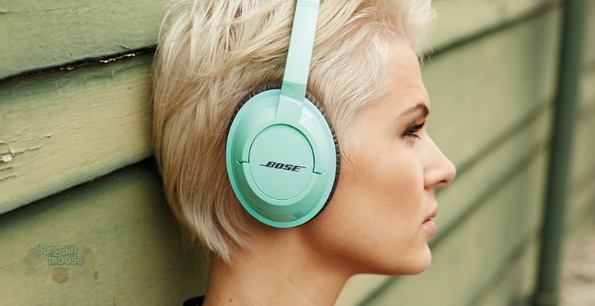 Dell Canada has discounted the Bose SoundTrue around-ear headphones from $179.99 down to $119.99. Receive free shipping on your Bose headphone order as well as 5% cashback via the Dell Advantage as this order is over $100. Make sure to use your Dell Advantage card within 90 days of purchase.
The above link takes you to the mint/black colour combination. This headset is also available in plain black, white, and mint. All four colours are currently in stock and I am really digging the mint/black and mint colours. They really elevate the headset above basic colours that all headsets seem to come in these days.
This is Bose quality we are talking about. Bose is legendary for their headsets and for the quality of the speakers. If anyone knows sound equipment - Bose does.
Your brand new headset folds up to fit within the included - and matching - carrying case. These headphones fit around your ear for optimal comfort. They are lightweight and comfortable to wear for long periods of time. The cord is detachable for easy storage and replacement should the cord wear out.
The Bose SoundTrue headphones are designed for use with your iPhone and other Apple products. They would also work well with Android phones. There is an integrated inline remote on the back of the microphone that gives you control over music functions at the touch of a button: adjust volume, play/pause tracks, skip tracks forward/backward, fast forward/rewind and change playlists.
Let us talk competitor prices right now. Everyone and their dog seems to be discounting this headset this weekend. I actually found this headset by seeing it price drop on Amazon.ca from $179 down to $129.99. Likewise, Best Buy Canada has dropped their price from $149.99 down to $129.99. Bose itself has dropped the price of this headset from $179.99 down to $129.99. While Staples Canada has dropped their price, it is not nearly as substantial. Originally $179.95, the headset is now on sale for $161.95.
One reviewer at Best Buy Canada said:
They arrived so quickly in a nicely packaged box- along with the case that matches in color. They are small and light and extremely comfortable to wear for long periods of time and sound amazing- much much better quality than my previous headphones.
Dell Canada's price is better for two reasons. First, it is $10 cheaper than all the other price drops by competitors. Secondly, The Dell Advantage gives you 5% of your purchase price back on a Dell Advantage Card. You stand to 'save' an extra $6.
(Expiry: 24th July 2015)