(EXPIRED)
This is the deal of the day today @ Dell Canada. I think it's a pretty good one so I will blog about it! Dell are offering this 2 piece Altec Lansing music and gaming speaker stereo system for only $19.99, and of course that comes with free shipping!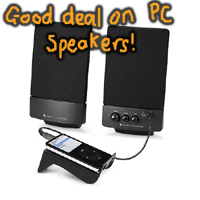 They were $29.99 and have now been reduced to $19.99 – not a bad discount! But I think it's the free shipping to your home that really makes this deal.I think ALtec Lansing are a really good brand name for audio stuff.

The BXR1120 powered audio system delivers quality stereo sound at an extremely affordable price. Features AUX input and Tone control. MP3 player cradle included.
They look pretty good, and I think the music dock would be really handy to have on your PC desk. I actually don't have any speakers attached to my PC, I just use my headphones. I annoys me sometimes as if I want to show people a youtube vid, I have to get them to put the headphones on. I think I need some speakers!!
This deal is TODAY only!