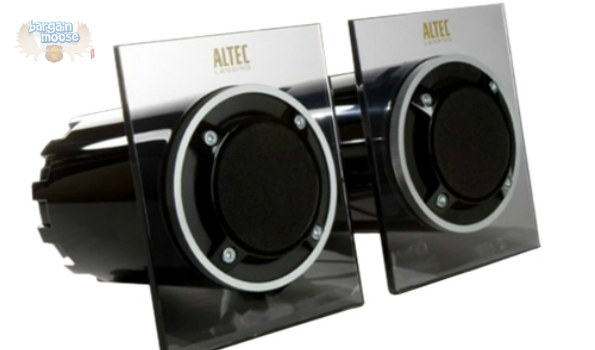 Get $70 off a set of Altec Lansing 3'' Computer Speaker Drivers Expressionist Classic. On sale for $29.99 these babies originally were $99.99.
First of all, these things are really a thing of beauty. They are just gorgeous to look at. I love speaker drivers for the sound quality and you are certainly getting a sweet deal on these.
Specs:
Compact and crystal clear
Impressive sound and design simplicity
Precision-engineered 3'' speaker drivers deliver pure, distinct full-spectrum audio. [Intl: 75 mm]
Built-in controls for power and volume at your fingertips
AUX IN Jack for connecting portable CD, DVD, and MP3 players
I WANT these. Like, every audiophile bone in my body says BUY THESE! Everyone knows laptop speakers are pure crap. If you have ever listened to music through quality speakers you figure out quite quickly that:
Laptop speakers are crap
iPod's quality is directly linked to power. If they are plugged in, better sound
A good over the ear headphone set is worth its weight in gold
External speakers are the way to go for any electronic device pretty much
I am a bit of an audiophile. I believe my ears deserve beautiful music. I am no where near the guy I know who has 10,000 speakers in his basement with his record collection (which I got to sit in front of and they were AWESOME). However, I pride myself in taking small steps to ensure the highest quality per $$ possible.
These speakers are $30 - with free shipping, totally worth the investment.
Expiry: 26th, May 2012 @ 6AM