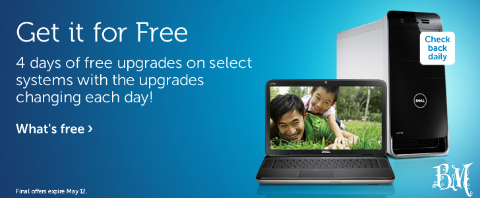 Dell is doing something rather unique, for 4 days you can get different system upgrades for free to select Dell computers (which start at only $399.99).
May 9th, 2011: Get a free memory upgrade
May 10th, 2011: Free upgrade from DVD to Blu-Ray drive
That means that for the systems listed you get extra memory! On some you get an upgrade of 3GB to 4GB of memory, and on the bigger boys you get 6GB of memory upgraded to 8GB.
Sweet deal! Only available for today also! I wonder what tomorrow will bring!