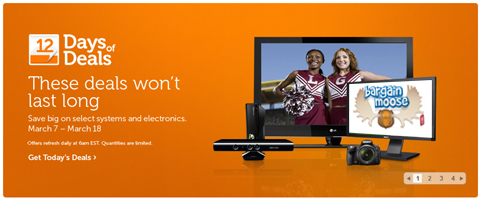 Between the 7th and the 18th of March 2011, Dell is hold a special event - 12 days of deals! Over this time period, they will be having special offers on PCs and electronics.
Every day, you have to check back on the site to see the new deals for the day. I might bump this post a few times to remind you to see if there are any good bargains to be had.
Today, there are 11 items on offer. I will not list each and every single one of them, but here are a few that catch my eye:
(Day 1 examples)
(Day 2 examples)
(Day 3 examples)
(Day 4 examples)
From my experiences with Dell Canada days of deals, they always have some juicy little bargains which are just tempting me to buy them. And the free shipping on everything is too sweet to resist! Please comment below if you spot a good bargain before I do.