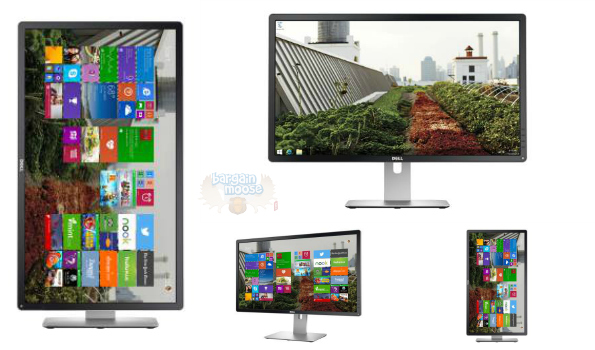 **BUMP** This deal is back on for an early Boxing Day sale so rather than re-blog it, I am just going to bump up this post.
Microsoft has a sweet deal on this large Dell 28" Ultra HD monitor. Originally $499, the monitor is now on sale for just $299 so you save $200 and receive free shipping on your purchase.
Details my lovelies! This huge monitor features a 3840 x 2160 Ultra HD resolution for crystal clear images of incredible quality. It will look like those flowers on your wallpaper are actually growing. This is considered a 4K monitor as it has four-times the resolution of a regular full HD. The non-glare LED panel makes this a fantastic unit for watching movies.
The P2815Q Dell monitor has all the ports you need to connect external devices. Enjoy an ample four USB 3.0 ports, three DisplayPorts, and an HDMI port.
This will make a great work monitor, movie-watching monitor, or a great monitor for your business. However, the monitor has too low a refresh rate to be great for gamers. This monitor's refresh rate is 30hz, whereas gamers will want a monitor with 60hz for long periods of gaming. Eyestrain can become a real problem with lower refresh rates.
This is the P2815Q model from Dell so I price compared it there and anywhere else I could find it. At Dell, they have the original price of this monitor $100 higher than the original listed price at the Microsoft Store. The monitor is listed at Dell to retail for $599.99 and is now on sale for $399.99. I find that Dell is guilty of this a lot, boosting the original retail value so it makes their sales look more impressive. Personally, I am not impressed.
While this monitor is not available on Amazon Canada anymore, I did find some very useful reviews like this one:
Pixels! Pixels! Pixels! This has much more real-estate than my U3014 (2560x1600) which was almost double the price. As a programmer and someone who works with large documents, this is a unique capability for a bargain price.
Can be landscape or portrait. This monitor can display documents with 4K pixels top-to-bottom. Many of the large format monitors do not support this mode of operation.
I think it is cool that you can use the monitor in portrait position; I have never had a monitor that could do that. Hey Moosers, what would you use this monitor for?
(Expiry: Unknown)