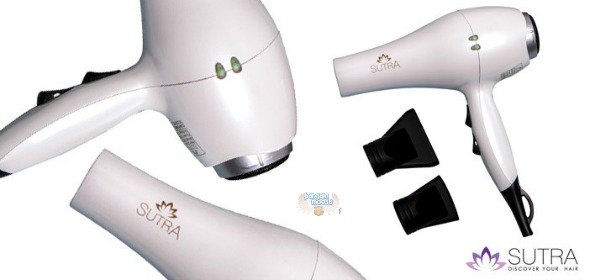 Dealfind has two fine deals on hair styling accessories currently. First, pick up a Sutra Curling Iron for $35 including tax, plus a $15 shipping charge ($275 value). You can also purchase a Sutra Blow Dryer for $54 including tax, plus $20 shipping ($350 value).
Let us talk about the curling iron first. You are paying $50 (including shipping) for an iron that is listed for $275 on Sutra's website. While the main pictures show a pink curling iron, you actually get choices in both size and colour. You can choose between:
Pink - 13 mm curling iron
Black - 19 mm curling iron
Pink - 25 mm curling iron
Pink - 32 mm curling iron
Black - 25 mm curling iron
The size determines how tight or lose your curls are. This curling iron has a 100% solid ceramic / ionic heating element that heats up in less than 30 seconds. With a 360-degree swivel cord, you will not get tangled up while curling your hair. The system also comes with a thermal glove to keep your hand burn-free. I have always wanted really large ringlets to float around my face, thus I would purchase the 32 mm curling iron.
The Sutra Professional Blow Dryer will cost you $74 once you include shipping. It is a lightweight unit that generates infrared ceramic heat. The 1600W - 2000W motor gives you a shorter drying time and two concentrators help direct the heat to where it is most needed on your hair. The blow dryer only comes in pearl white. This unit does retail on Sutra's website for $350.
I am not very familiar with this brand, but professional quality hair-styling tools tend to be expensive. Deals like this certainly help you save money. My hair tends to be extremely low maintenance, but even I have days where I want a change. Since I have straight hair, my main wish is for it to be curly. I especially like that idea during the summer: soft curls framing my face while lying on the beach or playing in the ocean. Currently I do not have any way to curl my hair, but this curling iron is affordable as long as I used it often enough to justify the purchase.
Shipping will take about three to four weeks. There are unlimited purchases per person (and as gifts); however, this item is final sale (unless defective).
(Expiry: 27th July 2014)