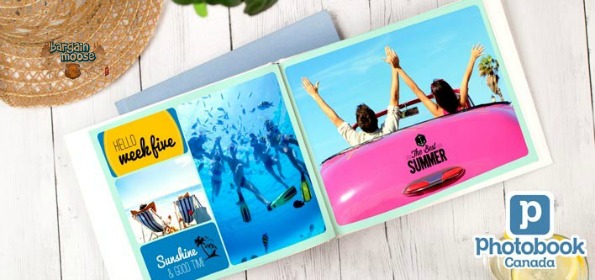 Hello fantastic deal how I do love you! Receive a FREE 6x6 inch Mini Square Softcover photo book with 40 pages in it from Photobook Canada when you pick up this voucher for $0 from Dealfind Canada. This offer is worth $24 and includes tax.
You will only need to pay for shipping when you order your photo book from Photobook Canada. That means if you get this voucher and never use it, then you have not lost any money. If you get the free voucher and do use it, then you are saving $24 and only paying $4.99 for shipping. I am totally getting one of these as a gift for a friend of mine.
Now, you do have the option to upgrade your free voucher to a paid voucher at a very steep discount. Here are the upgrade options:
FREE 6x6 inch Mini Square Softcover ($24 Value)
$10 for an 8x11 inch Medium Portrait Softcover ($40 Value).
$15 for an 8x11 inch Medium Portrait Imagewrap Hardcover  ($60 Value).
$20 for an 11x8.5 inch Medium Landscape Imagewrap Hardcover ($70 Value).
$30 for an 15x11 inch Large Landscape Imagewrap Hardcover($105 Value).
All these books only include 40 pages. If you upgrade your book size, then shipping costs will naturally go up. However, Photobook Canada has always had very reasonable shipping charges so don't worry about them. Personally, I am sticking with the free photo book.
There is a limit of one free book voucher per person. You have from July 23, 2014 to January 27, 2015 to redeem your vouchers, which is plenty of time to create your photographic masterpiece.
I am pretty stoked about this. Unfortunately, the redemption date does not start until the 23rd or else I would make up a photo book for my friend Robert as his birthday is on July 27th. Maybe I will send it as a belated birthday gift or deliver it in person when I see him again in November. It is hard being away from friends for a long period without being able to see each other, so picture books are a nice way of still being with a person when you cannot be physically present.
Pick up this great little freebie while quantities last. Over 5,500 vouchers have already been claimed and I do not know if there is a limited quantity. Supposedly, there is still one week left of this deal.
What is your book theme going to be and whom are you going to send it to?
(Expiry: 18th, July 2014)