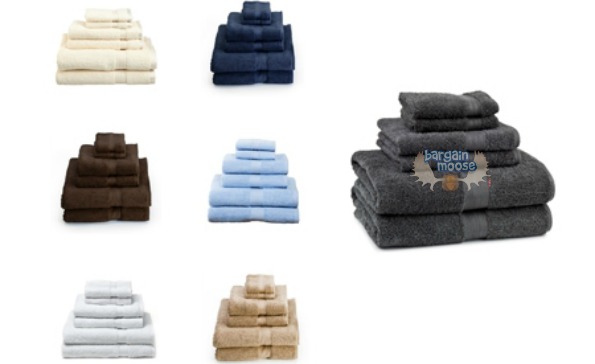 Get a six-piece Egyptian Cotton towel set from Dealfind Canada for only $39, worth $88.
I wanted to blog about this because I desperately need new towels. I still have many of the towels I got as wedding gifts years ago and unfortunately my front loading washer has left them with a musty smell. I guess the washer didn't do it, the person who forgets that the laundry is in the washer for a few days may have done it (um, me). Either way, it isn't a pleasant experience exiting the shower feeling ultra clean, only to put a stinky smelling (but clean) towel on my face. I need new towels.
Towels also make a great wedding shower gift because it just isn't something a new couple ooohhhs and ahhhs about, so they probably don't want to spend the money it takes to invest in towels, although it is a necessity in every home. Plus, towels can be so expensive, until a great deal like this Dealfind deal comes along and gets you soft and durable towels for less than $40.
You'll get these highly absorbent towels in your choice of seven colours: chocolate, cloud, deep blue, ecru, gray, sandstone, and white. These are all great neutralish colours. The measurements are bath towels: 55''x 27'', hand towels: 28''x16", face cloths: 13''x 13'' and you'll get two of each.
Buy up to two for yourself and two as gifts.
Tax and shipping is included!
(Expiry: 11th June 2013)