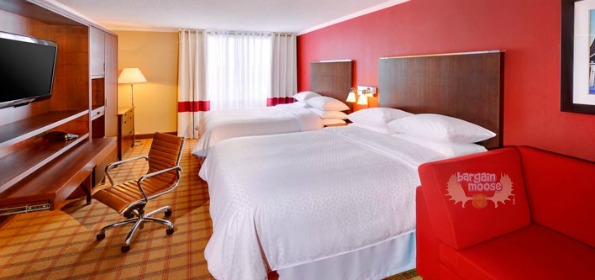 Stay any night at one of 24 Four Points Sheraton locations and get your second night 40% off.
If you need to book a hotel in Canada in the near future, you should check out this deal. Not only valid on the second night, it is also valid on every second night you stay. For example, the fourth night, the sixth night, the eighth night and so on. You could save a ton of money with this deal.
You will get a traditional room with one king or two double beds, and this deal is valid for two people staying in the one room. You have until February 28th to travel and you can book your stay online easily. This deal is non-refundable. Rates depend on when and where you travel, but your rate could be as low as $80.
Maybe your wife has been complaining about how little sleep she's been getting and just wants to get away. I know I have (been complaining!) and would love to just sit in a hotel room eating pizza and chips in my bed, watching whatever the heck I wanted on TV. This deal might be perfect for a quick weekend away.
The 24 locations are spread out in major cities in every province. Let me know how great of a deal you get!
(Expiry: 27th October 2013)