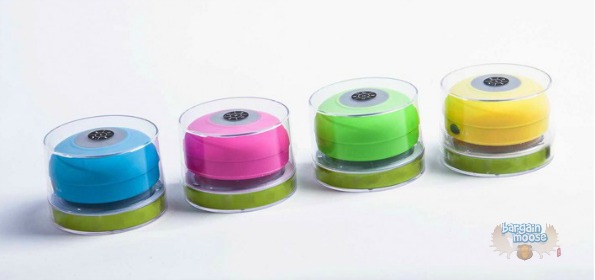 Dealfind has a good deal on a Bluetooth shower speaker, that is compatible with all your Apple and Android devices. Pay only $29 (tax included) and it has a $90 value.
As with any Dealfind deal, the link above takes you to the main page and you'll have to find the speaker on your own. Hopefully it won't be too tedious.
I searched out other Bluetooth waterproof speakers and couldn't find one at this low of a price point. This is a generic unit with no brand name and no details on how great it works. I'd call this a cheapie speaker. This is the type of speaker you won't mind getting a bit of rough use, since you are paying less than $30 for it.
It has a suction cup to attach to the shower wall, but you can also use it wherever you like, including at the beach or pool, where it might get wet, but its ok.
You can get it in blue, green, yellow or pink and all of its technical details are listed on the deal.
Shipping is $9.
(Expiry: 7th October 2013)