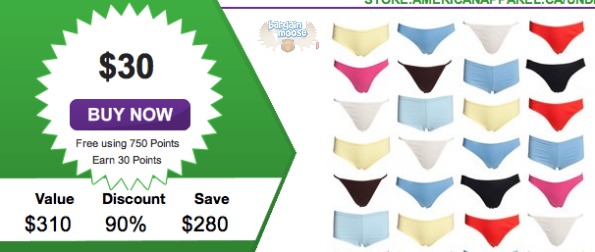 What a deal to restock those underwear drawers! Pay $30 for a Months Supply Of women's Underwear From American Apparel. All sizes are available ($310 Value). Online redemption only. Taxes and shipping are not included (though shipping isn't bad: around $8 - $10). This is for women's underwear only.
If you get relocated on their website, just check under American Apparel deals.
I just bought one for myself, and one voucher for my mother! They are multipacks so they are a combination of colours and styles including brief, pantie and thong.
You can see the pack you will be getting on AA's website here. It is on sale currently for $70 (Reg. $365) and with this voucher you are paying not even half the sale price which is already wicked. You are basically getting the underwear for $1 a piece (excluding shipping).
Expiry: 5 and 1/2 days
Once the deal expires the vouchers will be emailed.