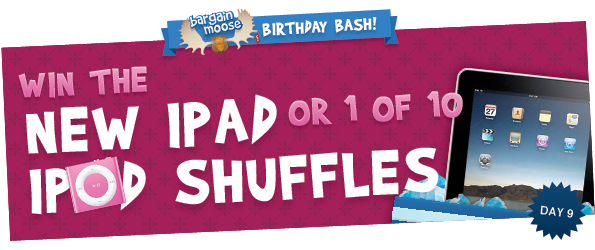 *** Day 9 contest now closed, winner is Patricia!  ***
It's nearly coming to an end; our fantastic summer giveaway in which there is a brand new Apple iPad up for grabs, as well as 10 iPod Shuffles. This is the 9th day of the contest, meaning it will be the last day tomorrow - be sure to stop by the site on Wednesday as I might have some extra surprise fun planned.
You're all familiar with how this contest works as we're now on the 9th day of the celebrations! Here's what you need to ponder today:
Imagine you've got to book yourself a hotel for a week's vacation, using hotels.com. What city would you choose to visit?
Think about it, browse the locations on Hotels.com, and tell us in the comments below - where would you visit and why?
For bonus entries today:
Tweet out a link to this day's contest (make sure to include @bargainmoose)
Mention this day's contest on your Facebook wall
Rules:
Today's contest ends 28th August 2012
Canadian entrants only
1 type of bonus entry per contest per day
Admin's decision is final, contest is subject to change