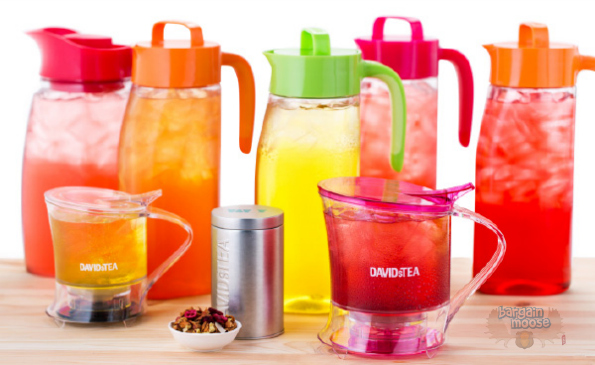 David's Tea has the most interesting summer promotion. Purchase either a steeper or a pitcher to receive 15% off loose-leaf tea all summer long.
Click here to shop steepers and pitchers @ David's Tea now
Coupon Code: SUMMERSTEEPER
Discount: 15% off loose-leaf tea all summer
Expiry: 25th August 2015
Pitchers start at just $28 and steepers cost $30. A few fancier pitchers cost $35. While I really like the design of the pitchers, I just do not drink my tea cold unless I forget about it. However, the steeper is totally on my wish list. You simply dump the tea leaves into the steeper and add water. The two float around together for a bit and then the water is strained from the tea leaves when you fill your cup. They are brilliant, and i would totally pick up the The Steeper Clear for $30 (36 oz).
This coupon does not stack on top of sale teas. To take advantage of the loose-leaf tea offer, I added 100g of Chocolate Macaroon tea to my cart. This tea is currently rivalling my previous favourite (Birthday Cake) as it just tastes so delicious. 100g retails for $15.50 but the 100g of tea comes down to $13.17 with this deal. You also receive a free tin with tea purchases of 100g or more.

This offer is valid on all orders after May 6th until August 25th. You must be a 'frequent steeper' (membership is free) in order to take advantage of this deal. I have linked to information on the frequent steeper program. With the program, you earn 1 point for every dollar you spend. When you reach 100 points, you can redeem it for 50g of tea. The only catch is that you must sign up in store.
I am not sure how you would get 15% off your loose-leaf tea on orders after the steeper... you may just use the same coupon code or they will send you one in your package. Alternatively, it may be linked to your frequent steeper card so you will automatically receive the discount for the rest of the summer. Only loose-leaf tea is included in this deal: gift packs are not included.
This offer is available both in stores and online. If you are in store, you may want to ask how this works for the rest of the summer after you have made your initial purchase.
Receive free shipping on $50 and three free samples with every order.
(Expiry: 25th August 2015)