The 24 Days of Tea Advent Calendars @ David's Tea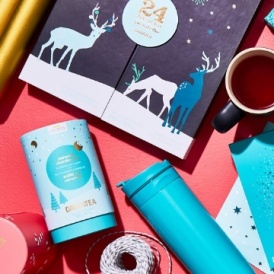 After a long wait, they're here! I'm talking about the David's Tea advent calendars for 2018, and this year, they come with a twist.
Instead of just releasing one 24-day calendar, David's Tea is selling THREE countdown tea calendars, and they're all available online now.
Prices for the 24-day calendars start at $32, and quantities are pretty limited, so I'd try to grab one (or two) as soon as you can!
First, their classic 24 Days of Tea calendar is back. This is the David's Tea advent calendar we all know and love, complete with new packaging specifically for 2018. For every day in December until Christmas, you can open up a new kind of tea, including some web exclusives, some fan favourites and a few surprises. And to make things even more exciting, this year's boxes all double as ornaments! It's the most expensive calendar (at $49), but it's well worth it.
Next, they have a new 24 More Sleeps calendar. It comes packed with 24 low-caffeine teas that are perfect for sipping on a cozy night in or right before you head to sleep. It's priced at $32 and full of some of the best seasonal blends that David's Tea has to offer.
And finally, David's Tea has a new 24 Teas to Love calendar that lets you open 24 different organic teas in ready-to-steep sachets. This one is $32 and great for experimenters who are looking to discover new teas or someone who loves a little bit of everything.
Things get even better, though, because David's Tea is also running a limited-time offer on those two new calendars. Right now, you can mix and match the 24 More Sleeps and the 24 Teas to Love calendars and order two for $59 – which saves you $5.
If you're ordering online, shipping is free on orders over $50.