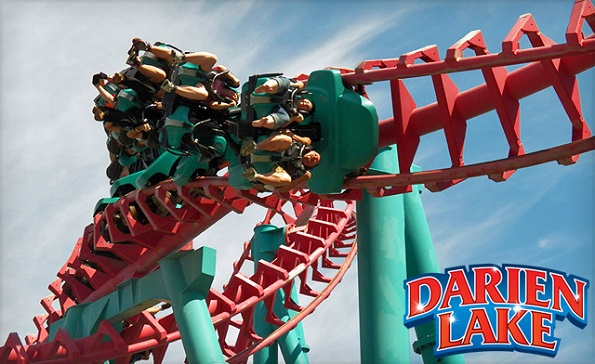 If you are planning a trip to the Niagara region at all this summer and you have a passport, you need to check out the awesome Darien Lake Theme Park Resort located in New York. Right now, you can score tickets for up to 58% off. Remember to use our exclusive coupon codeMOOSE5 to save an extra $5 off your Wagjag purchase!
This is a stellar travel deal Bargainmoosers, that you absolutely have to take advantage of if you plan to be around the Niagara region with a car. If you are not familiar, Darien Lake is a fun theme and water park located between Buffalo, New York and Rochester, New York. If you are traveling in the area at all this summer, this is a deal you should grab. You have four different ticket options that all give admission to both the theme park and the Splashtown water park. The best deal is tickets for four for a one-time visit, but by using our coupon code you could easily round out your deal with a few extra tickets and the prices are very close in value. If you live close, the season pass deal is fantastic.
One general admission ticket (valued at $55.20) On sale for $29 - Now $24
Two general admission tickets (valued at $110.40) On sale for $55 – Now $50
Four general admission tickets (valued at $220.80) On sale for $99 – Now $94
2015 Season Pass (valued at $90) On sale for $59 – Now $54
Your admission tickets are good through the end of the season. Darien Lake is open seven days a week through September 7th and weekends only with non-peak hours through the rest of September. You can check out the full operating schedule on the Darien Lake website.
If you are debating if you should take yourself or your family up to Darien Lake, check out some of the reviews on Trip Advisor. Make sure you scroll down as there are a bunch of mixed reviews as I would expect with any theme park (perhaps with the exception of Disney!). Several reviewers commented about being unhappy with the food prices and options. You may want to consider bringing a cooler for lunch and picking up snacks only in the park. Here is one of the happier reviews who seemed to have a great time.
Spent the past weekend at Darien Lake with my family, what an amazing time. We stayed at the Lodge on the Lake which we quite enjoyed. Loved the Ignite the Night show.... Really enjoyed the waterpark....the new brain drain ride was great! Rides were tons of fun...something for everyone!
Many people are buying this deal on Wagjag today. Though there is a bit of time left on this deal, I suspect it will sell out much quicker than the expiry, as currently over 500 people have bought this deal. I saw a similar attraction sell out just yesterday with that had about the same amount of sales. Here is a video of the newest water ride, Brain Drain!
(Expiry: June 6th 2015)