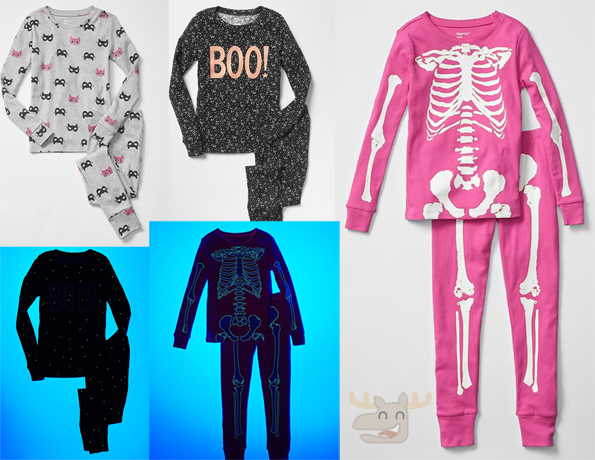 Boo! Halloween is coming – are you and your family ready for it? It's my favourite holiday of the year… with Christmas coming in a close second. If you're on the lookout for Halloween deals and accessories for some little kids in your life, then consider these absolutely cute Halloween sleep sets from The Gap Canada. These sets are priced at $33.95, but using the coupon code GAPLOVE for an extra 40% discount on ANYTHING on site, you can grab these cute sets for only $20.37 just now!
The coupon code above lasts through to the end of day on the 12th October, so you can use it on anything on site, not just these fantastic kids' PJs.
With this kids' Halloween sleep set, you've got a choice of three colours:
Pink bones (seems to be sold out)
Black boo
Grey cat masks
Sizing availability isn't amazing, with only ages 4, 6 and 10 available in some sets. Get in fast before they sell out!
As for shipping, your order must be $50 before discounts to get free shipping. This means that with the 40% coupon code, you really only need to spend $30 to get free shipping! How about buying two?
Honestly, I was in two minds about writing this deal. I wasn't sure if the 40% discount was really enough of a saving to share with the Moosers. But then I recalled that my daughter has this very same Halloween PJ set from The Gap – the pink bones one pictured above. It was gifted to my first daughter about four years ago, and it's been handed down to my second daughter as well. We use it all through the year – it doesn't just have to be at Halloween.
It's a superb quality set – there have been no holes in it, no wearing, and it looks almost as good as the day we received it. The only downside has been the glow-in-the-dark bones; as they have gone through numerous washes, they've lost their vibrancy in the dark. But I can honestly say that it's my favourite set of PJs for my girls!
(Expires: 12th October 2015)