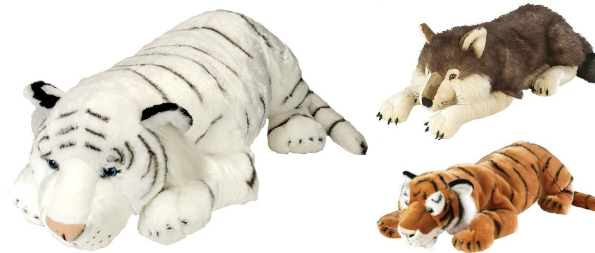 Having a slight heart attack right now over these giant stuffed animals! Amazon Canada currently has the Wild Republic Cuddlekins 30" White Tiger on sale from $69.99 down to $25.18. As this plush is over the $25 minimum threshold, you will also receive free shipping.
What is not to love: you get a giant stuffed animal for a fraction of the retail price. This gorgeous cat has authentic markings and coloration to a tiger. It is made out of good quality plush fabric and is soft and cuddly. The Cuddlekins line is a line of realistic plush animals by Wild Republic and this is one of their beautiful - large - stuffed animals. It is the perfect gift for any animal lover. This is the best price this plush has ever been according to CamelCamelCamel.


This white tiger has good reviews from Canadians with one reviewer saying the plush are high quality and they love the stuffed animals by Wild Republic. My colleague Brooke had a stuffed tiger just like this when she was younger:
I had one, and now I want to get one for my son. When I was a kid, I would drag that poor tiger all over the house. I would sit on it to watch TV, it slept at the foot of my bed and it even lasted until my late teen years. It would have lasted longer I am sure, if I had not donated it. Giving something like this to my son for Christmas would almost be nostalgic for me, and I know he would enjoy this cute tiger just as much as I did. Good luck wrapping that sucker though!
I also must mention that there are two other big 30" plush animals on sale that you need to pick up. This Wild Republic Cuddlekins Wolf 30-Inchis on sale from $69.99 down to $27.10. I think I might like the wolf even better than the tiger. It has plenty of good reviews from happy customers.

This Wild Republic Cuddlekins Jumbo Tigeris also on sale from $69.99 down to $27.54. This is the orange tiger instead of the white tiger like above. it has one negative review, but plenty of positive reviews on Amazon.com. All three of these plush would make excellent Christmas gifts for your young one.

As I have mentioned before, Amazon Canada prices fluctuate rapidly. These plush may not be at these prices for long.
(Expiry: Unknown)