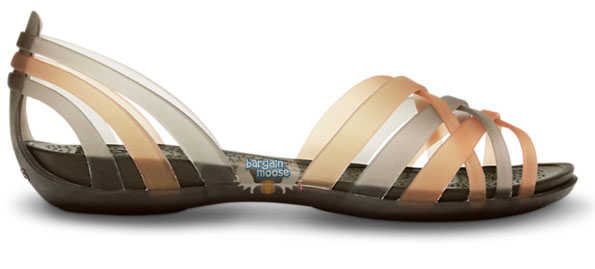 Hard to believe that the women's Huarache flats are Crocs right? They're actually on sale at Crocs Canada right now for just $34.99 (reg. $54.99) and you can use the Crocs coupon code: FF25 to save an additional 25% off and get them for an even lower price of just $26.24.
As I have mentioned here numerous times before, I have never been the biggest Crocs fan at all. I have heard all about how comfortable and superb they are but I just haven't mustered up the courage to give their iconic clog style a try. I would, however, wear these flat in a heartbeat as they look both great and comfy all at the same time. Being unfamiliar with the term "huarache", I have to admit that I took a minute to Google it and as it turns out, it's actually a type of Mexican sandal with a woven style that had been widely worn in the pre-Columbian era and which also gained popularity in the 1960's during the hippie times.
The ones in bronze/ espresso featured on the picture above are available in all sizes but other colours have limited sizing options. The other colour options include: black, multi/ geranium and multi/ island green. They also feature Croslite material, which is one of Crocs' signature materials that promises lightweight cushioning. On the inside, these flats also have Crocs' signature markings for added comfort and a slight foot massage as you want in them.
I love that these can be worn just about anywhere and even though summer is on the verge of being officially over, these could still be worn a random warm day or can be stashed away until next year. Shopping for summer merchandise at the end of the season is definitely one of the best ways to save money.
If you only get these flats alone, then you're looking at a $9.99 shipping charge but if you shop for over $100, then your order will qualify for free shipping. Given that this Crocs coupon code actually works site wide, I definitely suggest that all of you moosers have a look around for something else that might interest you or even if the flats above aren't exactly to your taste, then you can also check out the rest of the sale section for other shoes to save on.