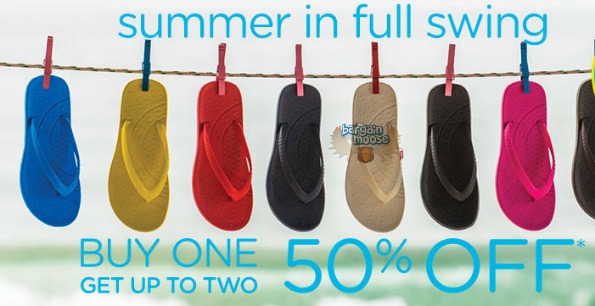 There is a great new coupon code out for Crocs Canada that will save you on your next purchase.  When you buy any pair of footwear, you will be able to get a second and third pair for 50% off once you add this coupon code at the checkout.
Click here to shop @ Crocs.ca now
Coupon Code: SWING50
Discount: B1G2 50% off
Expiry: 7th July 2014
This coupon can actually get you two different deals when you think about it.  Once you buy one pair of footwear, you can get a second and a third at 50% off.  If you just want two pairs, you do not need to get a third pair but you can if you would like to.  It is up to you whether you want two or three pairs of shoes with this deal.
There is some fine print for this coupon with some exclusions to watch out for:
Excludes sale products and the following styles and collections: 14558 Cyprus IV Heel, 15313 Leigh Graphic Wedge, 15626 Harborline Nubuck Loafer, 14850 Crocs Chameleon Shark Clog, 14851 Crocs Chameleon Seahorse Clog, 15682 Crocs Chameleon Whale Clog, 15684 Crocs Chameleon Octopus Clog, 14918 Capri Sequin Flip-flop Women, 11382 Leigh Wedge, 15752 Handle It Hello Kitty, 15264 Keeley Minnie Flat, 14809 Handle It Rainboot McQueen, 14175 Really Sexi Flip Sandal, 10876 Mercy Work, 11354 Sexi Flip, 12213 Duet Plus Kids, 11209 Carlie Mary Jane, 14391 Walu Women, Ocean Minded, Stretch Sole and Busy Day Collections.
It does seem like a lot looking at it but it is actually individual shoes that are excluded and sale footwear as well. Just like any other BOGO deal or coupon, you will get the lower priced pair of shoes for your discounted pairs.
One of the pairs of shoes on my wish list is these women's rainbow flats that are $54.99.  As a second pair, I would also grab these men's Santa Cruz shoes, for my husband, that are priced at $64.99.  Since the women's shoes are the lesser value pair, they will get the discount of 50% off bringing the price down to just $27.50.
Receive free shipping on orders of $100 or more. Shipping beneath the minimum is $9.95.
You will find this Crocs Canada coupon posted up on the Bargainmoose coupon forum along with some great sales and some other coupons as well.