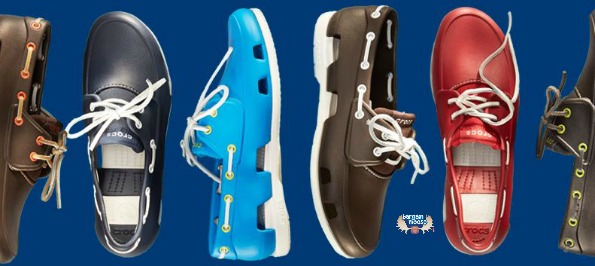 Crocs Canada is offering a rare buy one get one 50% off store-wide on all footwear. Discount will be applied to item(s) of equal or lesser value.
The discount will be applied automatically in your cart. This promotion also cannot be combined with any other offers.
I have to say I have been really considering Crocs lately. Why? I just moved to a wet climate and I have never owned rain boots... not quite in my life but since I was a kid. Suddenly I live in a place where it rains 167 days a year and I think keeping my feet dry those days is pretty important.
So I am looking at the Crocs Wellie Rain Boot because three of the colour choices are on sale for 20% off. They have fancy names for the colours but essentially they are a red, a brown, and a green. Originally $74.99, these three colours are on sale for $59.99. As a bonus they qualify for the BOGO 50% off so BOTH pairs of boots will only cost you $89.98 together or $44.99 each.
I will also be encouraging my husband to get the Men's Crocs @ Work Wellie Rain Bootbecause he walks to work each day and in the rain he really needs some protection. They are not on sale so they cost $74.99. He could get two pairs and they would come down to $56.24 each.
This is a great sale because it can be paired up with sale shoes on Crocs website. Make sure to get in on the savings before the sale is over!
(Expiry: 24th June 2013)