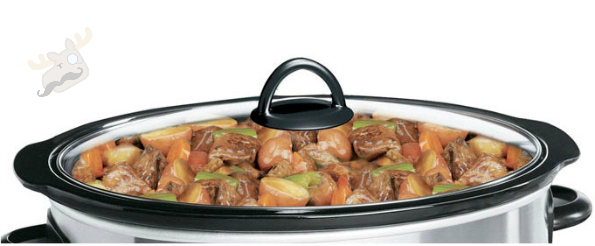 This month is Crock-tober, when crock-pot deals abound. I have been price comparing crock-pots for hours now and figured out that you can get a 4-quart or less Crock-Pot for under $20 at Sears, Amazon, and Walmart but the larger size crock pots are still far more expensive. Except for this one, Walmart Canada is selling a 7 Qt. Slow Cooker - Stainless Steel for just $22.88! Pick up this substantial Crock-Pot and get it shipped to your local Canada Post location (or Grab & Go locker) for free.
As there are so many crock pot deals all over the internet right now, I made sure to price compare this unit. The 7 Qt. Crock-Pots on Amazon Canada cost $34.99 (white) and $39.99 (black) respectively. At Sears Canada, they have the black version for $49.99. Given that Amazon's price is even $12 above Walmart Canada's price; I just had to post this. As one reviewer said:
Awesome price for a fantastic product. Simple, no bells and whistles just plenty of room to cook and looks great. Can't beat the price. This was an excellent on-line shopping experience.
I generally like my Crock-Pot slow cookers small, as I am only cooking for a couple people. However, my Mom owns three Crock-Pots (yup) and one of them is this size. She uses them for entertaining, like when you have family over for Thanksgiving. Thanksgiving cooking can be a big burden if you are having a lot of guests, but a slow cooker can do a bunch of the work for you. At 7 qt. big, you can feed the entire family out of one of these beauties.
I can remember many a family gathering where my mother would bring over the big crock pot full of yummy food. These slow cookers are fantastic for making and then bringing food to a pot luck as well. Whether it is a family reunion or a big birthday party, you will always find a use for a Crock-Pot.
If you need a new Crock-Pot, I highly recommend shopping for one this month as it is Crock-tober. I have seen a lot of Crock-Pots on sale of various sizes, with this one being the best deal from my price comparisons. You can get it shipped to your local Canada post location for free, which is pretty good given how big yet cheap it is.
(Expiry: unknown)