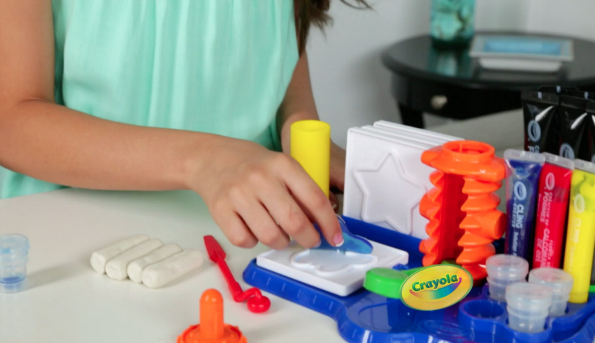 The Crayola Cling Creator Craft Kit is currently on sale from $25.99 down to $15.17 right now at Amazon Canada. This toy is ranked among the top 20 toys this year, so pick it up in time for Christmas.
Like all Crayola kits, this one is guaranteed to be fun! The Crayola Cling Creator lets your child create colourful clings in a variety of fun shapes. What is a cling you may ask? Well, a cling is a form, flexible, colourful 'thing' that sticks to and peels away from any smooth surface. That is why it is called a 'cling'.
Mix your own colour solution and pour it into one of the icon moulds. Alternatively, you can create your own moulds out of clay. The product will set in minutes to produce awesome clings in a variety of shapes.
I made sure to price compare this kit with other retailers. It currently costs $18.96 @ Walmart Canada, $25.95 @ Chapters Canada, and $25.99 @ Toys R Us Canada.
This is a really fun kit because you get to create and colour your own clings. Then, you get to find fun places to stash all your creations. Make a bug and stick it to the bottom of your brother's drinking glass. Make a spider and stick it to the window where you know one of your family members will look.
Stick the clings to your binder, your dresser, your walls, your closet, and anywhere else where there is a flat surface. The clings are easily removable so you can stick them on walls without worrying about them leaving marks. Just take them down and change them around whenever you want.
This is a really cool kit and I understand why Walmart has ranked it among the top 20 toys of 2015. This would make an awesome Christmas gift for any kid who loves creating and having fun.
You might want to pick up a few Crayola Cling Creator Refill Packs as well. They are on sale from $9.99 down to $6.99. Two refill packs and the main kit would be enough for free shipping.
(Expiry: Unknown)