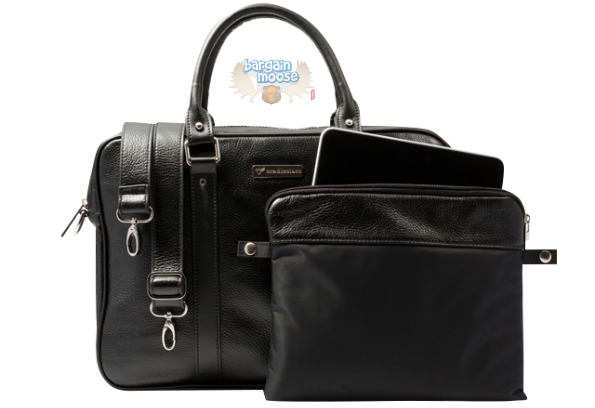 I love introducing our readers to new stores and this one is a sweet one! Cradle Slate is a store that sells bags and not just boring bags, but thoughtfully designed bags that are stylish, practical and modelled after Italian fashion for our needs today. Everything at Cradle Slate is hand designed with the leather being hand picked, the interior fabric chosen for its soft qualities, zippers for how they look and feel. The zippers are also scratch resistant so when you are rushing out of a meeting into another one and you dash to zip up your bag, you won't scratch the screen of your tablet that happened to be popping out of the bag. With 40% off everything on their site with our exclusive coupon, you've got your pick of anything you want with such a great saving on top.
Click here to shop @ Cradleslate.com now
Coupon Code: CYBERMOOSE2015
Discount: 40% off
Expiry: 1st September 2015
I actually have a Cradle Slate bag myself and love it. I have the classic bag, which normally sells for $265, but with our coupon code, you'll get it for just $159, which is a saving of over $100. Yesterday I had to carry my laptop with me to some appointments, along with my fairly large calendar plus some other books, my wallet, my phone and my water bottle and everything fit! The outside of the bag is soft, smooth and looks great and the interior is also soft and smooth. It has a clip-in interior bag, which is great to put my loose valuables in and sort of adds some padding to protect my laptop. There are two types of handles, one pair of handles is for carrying with my hands and the other is a very durable and adjustable shoulder strap. This bag is great for both men and women.
If you enjoy a vintage look, Cradle Slate's vintage bagis seriously gorgeous with brown leather. It has pretty much the same features of the classic, with a vintage look. The pricing is also the same at $265 before coupon and $159 after.
Maybe the past and the present aren't for you and you want the future. Check out the future bag, which is similar in style to the others, but in a very fresh and pretty white.
I really don't know which bag I love the most! While you might look at this site and be dismayed with only having three choices for bags, I think this means that Cradle Slate specializes in what they do and they do it well. Just like when you go to a restaurant and you see limited choices - this is because they want to do something well and that's impossible when the menu is six pages long.
Shipping is free on any bag!
Which bag do you love Moosers?