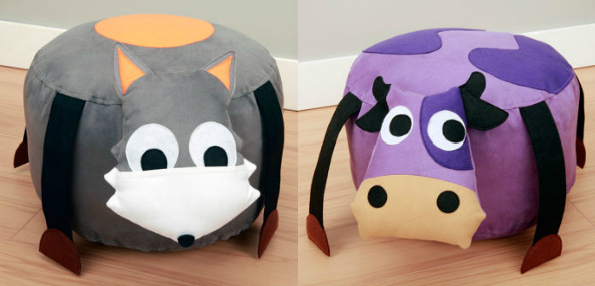 As Brooke previously mentioned, Costco Canada has a large selection of items on sale for an early Black Friday. I spotted these animal themed bouncy seats and instantly fell in love. Both the Grey Wolf Bouncy Seat and the Purple Cow Bouncy Seat are on sale from $37.99 down to $24.99 each. They also will receive free shipping with no minimum order.
These cute little bouncy seats are great for your children to sit on while reading or playing. They can sprawl across the top while chilling or conquering the world. Pull this bouncy seat up to a table so they can stay comfortable why doing arts, crafts, colouring, or drawing. Each bouncy seat adds fun to a bedroom, play room, or den. These are a bit different than a normal seat as they are soft and bouncy - both fun and durable for your kids.
If you are an adult who likes fun and cute things, then buy one of these as a footstool for the living room or bedroom. Put up your feet and relax while the kids are in bed. In fact, you could just borrow your child's bouncy seat while they are in bed. Put it back by morning and they will never know.
This seat measures 18" by 17" x 14" and weighs in around 1.7 kg! You will be SO happy to get free shipping on this bouncy seat as shipping would cost a small fortune on something of this weight. Each bouncy seat comes with a one-year warranty in case you have any issues.
I think these seats would make the cutest Christmas presents ever. Your kids can wake up Christmas morning to a brand new seat for their playroom. Make it the first gift they open and then they can sit on the seat while opening their other Christmas gifts.
This is just one of the many amazing Black Friday deals at Costco already. Now is the time to get shopping without needing a membership!
(Expiry: 6th December 2015)