CouponClick.ca: New Canadian Coupon Printing Website

I thought I would let you guys know about a new site I came across recently, CouponClick.ca
Here's a line from a press release which describes CouponClick.ca in one sentence:
Couponclick.ca consists of hundreds of online product and service coupons – under one electronic roof – that can be safely downloaded and printed by consumers.
I thought it would be a very good one to bookmark to access their free printable coupons!
The coupons do change over time, but here's a selection of their current coupons to show you how they operate: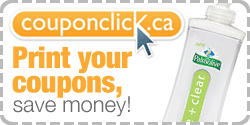 $1 off Any Clorox Product
$1 off Personnelle Shower Gel
$1 off 2 box Pizzettas Mini Pizzas
$0.75 off Palmolive Pure & Clear
There are quite a few more for you to browse through. You can select the coupons you want, and just print them out!