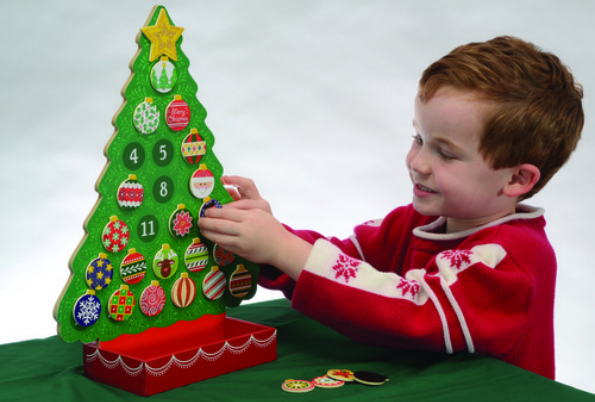 *Bump! This is now available with free shipping!*
I have been busy looking at Advent Calendars but that seems to be one thing that no one likes to discount. However, I did find the beautiful Melissa & Doug Countdown to Christmas Wooden Advent Calendar on sale from $24.99 down to $15 at Chapters.Indigo.ca during their free shipping promotion. This sale expires tomorrow, so pick up the advent calendar now. You will even get totally free shipping. The last time we blogged this it was on sale for $20, and even that is rare.
This is one cool - and reusable - advent calendar for your kids. The tree advent calendar had 24 unique ornaments plus a star (for Christmas Day) that attach to the tree via magnets. You need not worry about losing anything because all the magnets fit perfectly into the attached Christmas present box at the base of the tree.
Here is how you play. Each day until Christmas, your child can pick out one ornament to place on the tree, following the numbered outlines for each day. During the day they can switch, move, and rearrange the pieces for a custom look. Or, you could have a 'no switch' policy but maybe let them move around the ornaments - just not pick out a different one from the box. You could even do different themes on different lines going up the tree.
Frankly, this is a pretty awesome gift for children and adults alike. I love how it can be reused countless times and the decoration patterns will never be the same.
This same advent calendar retails for $23.26 @ Amazon Canada, and $22.49 @ All-Star Learning. At these prices, none of these advent calendars qualify for free shipping, so there is that to consider as well.
Chapters Canada usually requires a $25 spend to get free shipping, but today and tomorrow you will get totally free shipping with no minimum purchase. This type of offer doesn't come around all that ofte, and Chapters.Indigo.ca is also quick to ship so you should expect to receive this item fairly soon.
(Expiry: 10th December 2015)