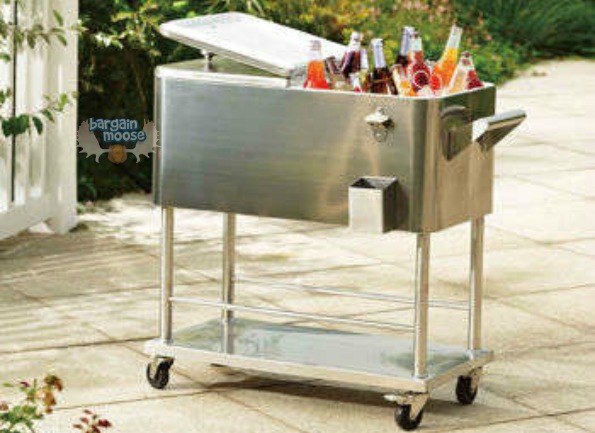 When I was at Costco last week, I saw this Sunjoy 75.7 litre (80 quart) stainless steel cooler cart and I fell in love. I believe it was actually priced higher in store too! What a perfect thing to have by the pool or on the back deck so you don't have to have people stomping through your house and going through your stale leftovers to get a drink. Not just practical, this is a showpiece to have on your deck with its sleek stainless steel styling. Regularly $229.99, it is $50 off and selling for $179.99 with free shipping too.
This isn't just a cooler either. The cart itself has caster wheels, a bottle opener with cap catcher and a towel bar. The bottom shelf allows you to store extra things like more beer. It can be used outside or inside as well as it is rust resistant.
I looked online to find out if this was the best price available and found that it definitely was. While it has a different look, this antique look 80 quart cooler cart sells for $219 at Home Depot. This Outsunny unit from Amazon is made from wicker and not as nice if you ask me and sells for $239. Shop.ca also sells that cooler cart for $289.
Other than those ones, I didn't really see the SunJoy model except in the U.S., where it does sell for over $200. I also couldn't find any reviews for this product, but I think it has pretty straightforward usage.
If I bought this cooler cart, I would keep it outside and fill it with freezies and juice boxes for my little ones when they have friends over. It drives me a little nuts when they jump on my trampoline then walk through my house with dirty feet looking for drinks and something to cool off with. I might as well set it up for them in advance. It is worth the money with the savings I'll get on my time cleaning the floors.
(Expiry: 12th July 2015)