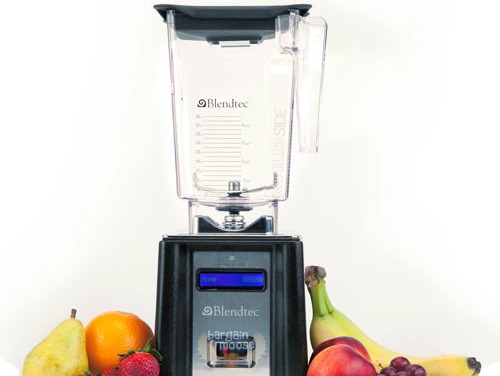 Costco has a fabulous deal on right now on the Blendtec professional series blender with 0.9L wildside jar. Now only $389.99, you'll save $100 on this beauty.
I was recently at Costco getting myself a new blender. I wasn't completely sure I wanted to spend $500 on a blender so went cheap and got a great deal on a Magic Bullet. But, after bringing it home, I kind of wish I would have splurged a little and got this top-of-the-line blender. I make most of my food from scratch and something like this is incredibly useful.
For example, I made a soup for Thanksgiving this weekend and there was no way I could have blended it up in my Magic Bullet and I instead had to use hand beaters. It got it mostly blended, but it took quite a bit of work and there were still a lot of chunks. The Blendtec would have made my soup a smooth puree in seconds.
Not just soups, the Blendtec does wonders with ice cream, juice, bread dough, margaritas, salsas and more. It also has a 7-year warranty, which is quite a long warranty for a small appliance. Even if it didn't have such a great warranty, Costco has such an amazing return policy anyway.
It looks to me like Costco is one of the only stores in Canada to carry this blender. Amazon carries it from a secondary seller for over $600 and any other store I found was well over $400. Even used on eBay, it sells for over $300. These might also have shipping fees on top as well, but Costco ships it to you for free.
If you are on the fence about Blendtec, maybe thinking about the Vitamix, you might want to read these reviews on Amazon called Blendtec vs. Vitamix.
This review sums it up beautifully:
It is so-o-o-o easy to "get every last bit out" because the sides of the blender doesn't have the unnecessary decorative grooves on the side. It makes a big difference if you're the type that doesn't like to waste. I feel that the Vita-Mix and Blendtec are equally noisy, but it does its job so quickly and efficiently that it really isn't on for very long. It is so efficient and powerful that it doesn't need a silly tamper to get everything blended well. It fits under my cabinet where I like to keep it and it is just perfect in every way... I just can't say enough good things about this machine.
I'm considering returning my first blender and getting this one instead.
(expiry: 26th October 2014)