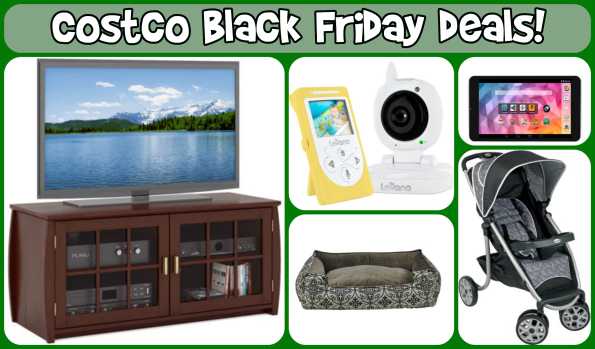 Costco Canada has started their Black Friday event already, and they have loads of fabulous opportunities to get great discounts on a variety of products.Whether you are shopping for exercise equipment, toys, furniture, or other items.. Costco has something for everyone. I was very tempted to purchase a few of the items available, so I am sure you will be tempted as well. Most items even have shipping and handling included which is just adding some sugar to the deals.
Costco Canada honestly was not one of the places I was considering doing an Black Friday shopping, but I may have changed my mind now. There are a few items I need for my pets and a few gorgeous furniture pieces available at a steal of a cost. What are you shopping for this Black Friday Canada 2015?
The Levana Sophia 2.4 in. Digital Baby Video Monitor is something every parent can use. The price on this item was normally $89.99, but during this Black Friday Event it is $30 off, which means you can get it for just $59.99. This is a great way to keep tabs on your baby while they are having a nap or while they are down for sleep at night. It surely beats cracking the bedroom door open every time you want to take a peak. We all know that usually results in the baby waking up, right?
I've also been on the hunt for a quality pet bed for my pampered pooch. This Bowsers Cooper Pet Bed is attractive looking, and also appears to be quite comfortable. It was $99.99 but thanks to these Black Friday discounts you will pay $79.99 including shipping. It is 40 inches x 30 inches, which is a pretty decent size.
If you are looking for a great stroller for your tot or toddler, then you may be interested in saving $70 on this Safety 1st Aerolite Stroller in the Orion colour pattern. It can be yours for just $129.99 which is a very reasonable price for a stroller of this quality. It even has the 5 point harness system and an easy one handed compact fold and stand. Talk about simplifying things!
TV Stands are hard to find for a good price, especially if you want a nice looking one. I am happy to have stumbled across this Washington 47 Inch Television Stand. It was normally $279.99 but I won't hesitate long since it is now priced at just $179.99.  Plus shipping is even included even though this item is quite large!
All of the deals I highlighted here have the shipping and handling included, so the cost you see is the cost you pay. Pretty sweet, eh?
(Expiry: Unknown)